Kentucky Proud Dairy Producer Helps Other Farmers, Young Entrepreneurs Start Ice Cream Businesses
By CHRIS ALDRIDGE, Kentucky Agricultural News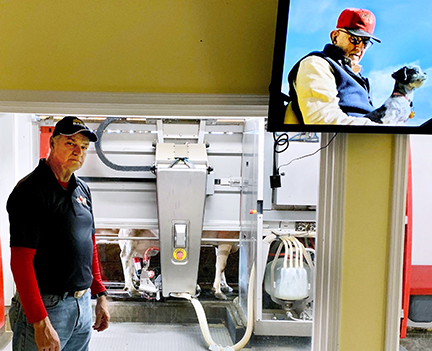 BOWLING GREEN, Ky. (Nov. 1, 2019) — Carl Chaney is a man of many talents – dairy farmer, milk processor, Kentucky Proud restaurateur and ice cream maker, and farm tour guide, to name a few.
But if you ask one of at least three budding ice cream enterprises across the state, you can add four other talents: cheerleader, sounding board, example, and mentor.
Jericho Farmhouse in Henry County is following Chaney's blueprint of turning a declining dairy farm into a booming ice cream business. A year after Carilynn and Curtis Coombs sold their 82 cows after losing their milk contract with Dean Foods, they stayed busy last summer scooping Chaney's Ice Cream out of their trailer at festivals and other events. The couple is planning to open an on-farm market and agritourism destination, complete with a new herd of dairy cows, and eventually process their own milk.
"Carl Chaney has been a lifeline for us as a family business," Carilynn said. "When we decided to walk down this road of value-added and selling direct to the customer, Carl welcomed us with open arms.
"In a world full of competition, he continues to remind us, 'There is room for everyone.' This process would have been much more daunting without Carl."
"Like so many other dairy farms in the state, they had to do something different," Chaney said. "They're in the process of transitioning into something else to try to stay on their farm.
"The Coombses know hard work and are not scared of it. They're willing to put in the time to be successful."
Two teenage entrepreneurs, Taylor Cook of Franklin County and Benjamin Williams of Nelson County, were also mentored by Chaney.
Cook started Taylor Belle's Ice Cream as an FFA project. She sold Chaney's Ice Cream, helped her dad build a trailer, and recently started making her own ice cream.
"She's an amazing young lady with so much drive and determination," Chaney said. "She bought ice cream from us at first but wanted to learn how to make her own, and now she's successful. I was tickled to death to be a small part of her accomplishment."
Williams founded Ben's Jammin' Ice Cream and Snacks before he was old enough to drive his black-and-white-spotted ice cream truck painted like a Holstein cow.
"I have a passion for agriculture, and my big thing is Kentucky Proud," Williams told the Kentucky Standard newspaper.
"It's so cool to see these kids succeed," Chaney said, "and know we played a small part in their success."
Chaney said he hears from "a few" people from other states who have visited his high-tech dairy operation in Warren County and were inspired to start making their own ice cream.
"We're honest with people," Chaney said. "We tell 'em it's a lot of hard work, so we probably scared some off."
Chaney said agritourism is just as important to the success of his operation as ice cream sales. He said about 14,000 people have visited the farm so far this year.
"We're three or four generations removed from the farm – many adults don't even know what goes on," Chaney said. "So we use the farm tours as an opportunity to educate today's consumer about what agriculture, and dairy farming in particular, is about.
"When we put in a robotic milker about five years ago, we knew tourism would be one of the ways to pay for it," he said of the Lely Astronaut robot, which milks cows on demand 24 hours a day and calls Chaney on his cellphone if it encounters a problem.
On a recent Monday morning, three school groups totaling 140 children visited. The day before, a tour bus arrived from Michigan carrying 30 people. "A few of them had milked cows before, so they were absolutely amazed at the robot," Chaney said.
Chaney's dairy farm, located on U.S. 31W between Bowling Green and Franklin, has come a long way in its 80th year of operation. In 1948, Chaney's late father, James, became the first dairy farmer in Warren County to get electricity.
"Dad would've absolutely embraced this new technology," Carl said, noting his father also encouraged him to enter the agritourism and ice cream-making business when the 60-cow operation began suffering from falling milk prices at the dawn of the 21st century.
Carl and his wife, Debra, originally dreamed of processing their own milk to cut out the middle man.
"We visited four different farms to look at milk processing, and it just so happens that the places we chose were all making ice cream," Carl said. "We thought, 'Hmmm. That's kinda interesting.' They all told us, 'Oh, ice cream is where I'd start.'"
In 2003, the Chaneys founded Chaney's Dairy Barn, which also serves sandwiches.
"The first five or six years were not easy, but after a while, we started figuring stuff out," Carl said. "We got smarter over the years.
"We got some great publicity along the way. USA Today named us one of the top ice cream shops in the nation. That helped us to grow."
The Dairy Barn sold 3,000 gallons of ice cream and had 3,000 visitors to the farm in 2004, its first full year of operation. Fifteen years later, it will sell about eight times the number of gallons of ice cream and the number of visitors has increased nearly fivefold.
Last year, the Chaneys fulfilled their original dream of building an on-farm processing facility, named J.R. Chaney Bottling Company in honor of the farm's founder. Chaney's Milk is on sale at 12 local grocery stores, including nine Houchens stores, as well as at the Dairy Barn.
"Our chocolate milk is so good we can hardly keep it on the shelves," Carl said. "It has a high butterfat content because of our Jersey cows. It's so rich and so good, I keep some to make milkshakes."
The next step for the Chaneys is to use their own milk to make their ice cream. They currently use Kentucky Proud milk from Prairie Farms in Somerset.
"Hopefully, in the next three to six months," Carl said, "all our ice cream will be made from milk from our own cows."
Carl Chaney stands in the viewing room for his robotic milker. On a video monitor, above right, is Carl's father and the dairy farm's founder, the late James R. Chaney. (Photo courtesy Carl and Debra Chaney)