2018 Junior Chef Application Deadline Is Near
School Cooking Teams Compete for Scholarships, Other Prizes, and the Coveted Skillet Trophy
FRANKFORT (Feb. 28, 2018) — Agriculture Commissioner Ryan Quarles reminds Kentucky school cooking teams that they have until March 15 to apply for the sixth season of Farm to School Junior Chef competition.
"The Junior Chef program teaches essential food preparation skills while also educating young people about the importance of buying nutritious local Kentucky Proud foods," Commissioner Quarles said. "This competition has become a national model, and we owe it all to our staff in the Kentucky Department of Agriculture as well as Sullivan University and our other generous sponsors."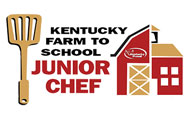 In Junior Chef, teams of two to five high school and middle school students compete in cook offs to move on to the next round of competition. The regional champions will vie for college scholarships and other prizes, including the coveted skillet trophy, in the state Junior Chef Tournament at the Kentucky State Fair in August.

To enter, each team must submit an application to the Kentucky Department of Agriculture (KDA) by March 15. To download the application, parental forms, rules and guidelines, and to find more information about the Junior Chef program, go to kyagr.com/junior-chef/.

Louisville-based Sullivan University provides more than $100,000 in scholarship opportunities for competitors on the top four teams in the state. John Wiley & Sons awards culinary textbooks to members of the two finalist teams. Other sponsors include the KDA, the Kentucky Department of Education, the Kentucky Beef Council, the University of Kentucky College of Agriculture, Food and Environment, and the U.S. Department of Agriculture's Food and Nutrition Service.

Montgomery County High School will represent Kentucky in the first Southeastern Junior Chef tournament, hosted by Sullivan University in Louisville, in May. Montgomery County will compete against Junior Chef state champions from Alabama, Florida, Georgia, Mississippi, North Carolina, South Carolina, and Tennessee. Montgomery County has won the state Junior Chef championship the last two years.