An Investment in the Future of Farming
'Ag Tag' Donations Help Fund UK Grain and Forage Center of Excellence
FRANKFORT (March 21, 2019) — Kentucky motorists who voluntarily donate up to $10 to the Kentucky Department of Agriculture's (KDA's) "Ag Tag" program when they buy or renew their farm vehicle license plates will help Kentucky farmers feed the world sustainably, protect the environment, expand the Kentucky economy, and pass their farms to the next generation.
The KDA donated $100,000 from the Kentucky Ag Tag program to the University of Kentucky (UK) Grain and Forage Center of Excellence in Princeton, Kentucky, which is scheduled to be completed in August.


""We're proud to donate this money to a facility that will provide important cutting-edge research to benefit our state's hard-working grain and forage producers," Agriculture Commissioner Ryan Quarles said.

The Forage Team at UK is recognized as a global leader in forage management, dating back to 1931, when Kentucky 31 tall fescue was discovered growing on a Menifee County farm and soon became a popular forage option.

Grains and forages are important drivers of Kentucky's economy. Corn, soybeans, and wheat generated about $2.2 billion in Kentucky in 2014, employed over 26,000 people in production and allied industries, and boosted the 2013 labor-income value by $42.5 million, according to the center's website. Forages cover more than 6 million acres in Kentucky and are used to feed livestock and horses, industries valued at another $2 billion in receipts each year.

"We have seen such big changes in our industry in the last 20 years, and that diversification effort continues, especially with our grain and forage producers," said Dr. Chad Lee, director of the UK Grain and Forage Center. "The research being conducted at Princeton and across Kentucky has been a huge contributor to those advances, and we know this new center will continue that legacy. We can't thank partners [like the KDA] … enough for their investments and their continued support of this facility."

"Deep roots grow leaders" is the theme of this year's Ag Tag campaign. Kentucky farmers donated more than $612,000 to the Ag Tag Fund last year. Donations are divided equally among Kentucky 4-H, Kentucky FFA, and the KDA. Half of the 4-H and FFA funds go back to the county where the tag is purchased.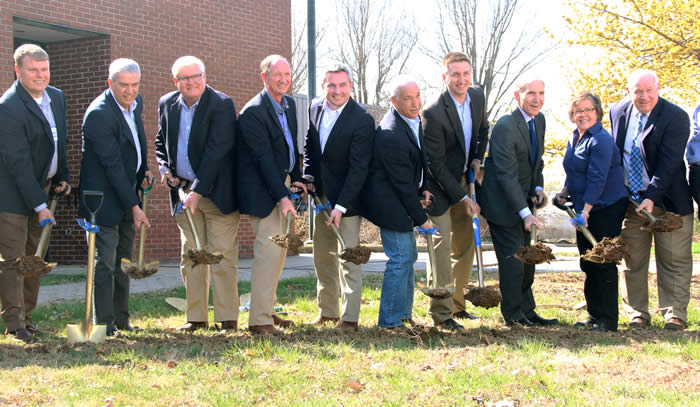 Agriculture Commissioner Ryan Quarles, center, helps break ground for the Grain and Forage Center of Excellence in March 2018. (Kentucky Department of Agriculture photo)