Goetta Maker Sees Long Runway for Northern Kentucky Company
Glier's Meats Has Produced its Signature Specialty Meat Products for More Than 70 Years
By CHRIS ALDRIDGE, Kentucky Agricultural News
COVINGTON, Ky. (Aug. 30, 2019) — Two decades ago, Glier's Meats Inc. was searching for a way to promote its most popular product, goetta.
Similar to sausage, goetta (pronounced "GET-uh") is usually eaten at breakfast. It is a mixture of equal parts ground pork and ground beef mixed with steel-cut oats, onions, and spices. Nicknamed "Cincinnati's caviar," goetta was brought to the area in the 19th century by German settlers as a tasty way to stretch out servings of meat over several meals to save money.
In 2001, the first annual Glier's Goettafest attracted a crowd of more than 6,000. Fast forward 18 years, and this summer's Goettafest hosted more than 350,000 on eight days over two consecutive weekends in late July and early August at Newport on the Levee on the Ohio Riverfront. Voted one of Kentucky's top 10 festivals or events, Goettafest offers live entertainment, family-focused goetta games, and inventive ways to eat goetta, such as goetta grilled cheese, goetta omelettes, goetta nachos, and even goetta desserts.
"That's our big promotional event," said Glier's President Dan Glier, son of the company's founder. "We expanded it this year to become the first two-week festival in the Greater Cincinnati area."
Glier's produces about 1.5 million pounds of goetta annually, 99 percent of which is consumed locally in and around Cincinnati.
"It can be served in over 40 different ways," Glier said, noting goetta is most commonly sold in 1-pound tubes like sausage and can be formed into hamburgers, meatballs, and pizza topping. "We sell it as brats and sliders, and even make a type of goetta [cheesy Glier's Bites] that's an hors d'oeuvre.
"We also make other link products, such as sausage links and Italian sausage," he added.
Glier's is the official brat, goetta, and mettwurst of three local professional sports teams – the Cincinnati Bengals and Cyclones football and hockey teams, respectively, and the Florence Freedom baseball team.
Dan's father, Bob, founded Glier's in 1946 after serving as a mess sergeant in the U.S. Army Air Corps in England during World War II. Bob grew up working after school and weekends at his uncle's butcher shop in Newport, which dated back to 1925. He later worked as an apprentice to the master sausage maker at H.H. Meyer Packing Company in Cincinnati before the war.
After he returned home from the war, Bob bought a small store with a kitchen and a smokehouse in Covington and started making Glier's sausage links. Between Labor Day and Memorial Day, he would make and sell his version of goetta, which he developed in the mid-1930s.
"I started working there as a 12-year-old standing on a milk crate," Dan remembered.
Bob more than doubled goetta production in 1963 to 1,200 pounds a day by remodeling the store's basement. Then in 1964, he bought an old dairy building in Cincinnati and started goetta production and distribution in Ohio.
In 1968, Glier's remodeled the former Hannakin Dairy/Bavarian Brewery building in Covington, where it remains to this day. The two previous operations were consolidated into one, with facilities upgraded to meet USDA inspection requirements. With an entire room dedicated to goetta, production increased to 2,100 pounds per day.
In 1972, Dan graduated from Eastern Kentucky University and joined his father in the business. Four years later, Bob became ill, and Dan took over as president in 1977. Bob died in 1978.
In the 1990s, a third generation of Gliers, brothers David and Michael, began working for the family business during summers and breaks. David joined the business in 2009 after graduating from Northern Kentucky University.
"It's a family tradition," Dan said.
Glier's is also the largest deer processor in northern Kentucky at 750 carcasses per year.
Glier's has grown from a husband-and-wife operation 70 years ago to employ about 30 workers currently. For more information about the company and its products, go to goetta.com.
Dan said the future looks bright, with projections of 5-10 percent growth per year.
"We're got the wind to our sails," he said, "and here we go!"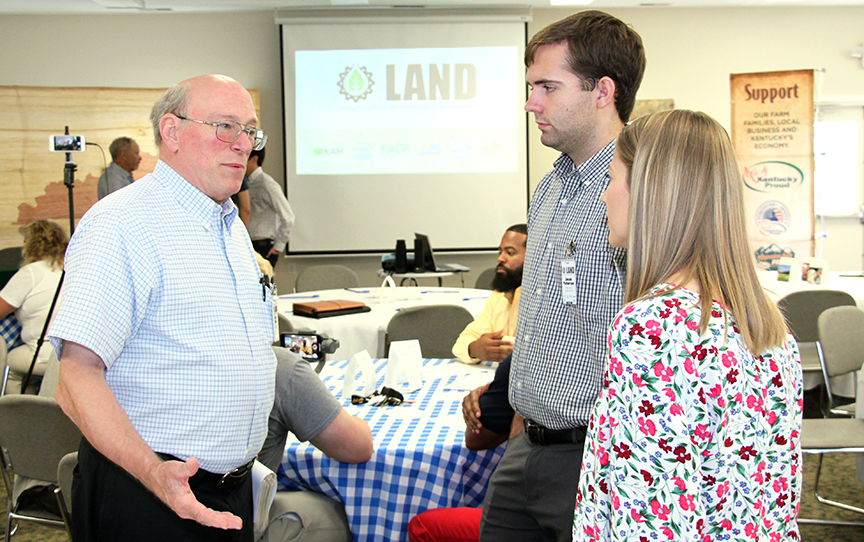 Dan Glier, left, president of Glier's Meats Inc., chats with Kentucky Department of Agriculture interns at the LAND (Linking Agriculture for Networking and Development) Forum in Warsaw in July. (Kentucky Department of Agriculture photo)