KDA Issues Grants to Kentucky Food Banks
Funding for Cold Storage Will Help Feed Kentucky's Hungry
LOUISVILLE (April 15, 2019) — Agriculture Commissioner Ryan Quarles announced today 25 Kentucky food pantries will have additional cold storage space, thanks to grants from the Kentucky Department of Agriculture (KDA).
"We launched the Hunger Initiative nearly three years ago to look for solutions to food insecurity in Kentucky," Agriculture Commissioner Ryan Quarles said in a news conference today. "This is the sort of solution we were looking for – finding resources to help our less fortunate friends and neighbors get the nutritious foods they need. Many thanks to our KDA staff and our friends at Feeding Kentucky, Dare to Care, and the U.S. Department of Agriculture for making this happen."
"Kentucky's agriculture community has been a strong partner in the fight against hunger thanks to Commissioner Quarles' leadership," said Brian Riendeau, executive director of Dare to Care. "The equipment provided by USDA and the Kentucky Department of Agriculture will help increase the amount of fresh Kentucky-grown produce, protein and eggs distributed to our neighbors at risk of hunger. Dare to Care Food Bank and the other members of Feeding Kentucky are grateful."
The KDA issued a $9,793 grant to Feeding Kentucky to place 16 coolers and nine freezers in 25 food pantries across the Commonwealth. The freezers and coolers will enable the food pantries to store more fresh Kentucky-grown produce donated from Kentucky farmers through the Farms to Food Banks program as well as meat, eggs, and other frozen and cold-storage products.
The Hunger Initiative is a first-of-its-kind effort in Kentucky to bring together farmers, charitable organizations, faith groups, community leaders, and government to look for ways to reduce hunger in Kentucky. To find out more about the Hunger Initiative, go to kyagr.com/hunger.
Click here for a list of the food pantries that will receive freezers and coolers.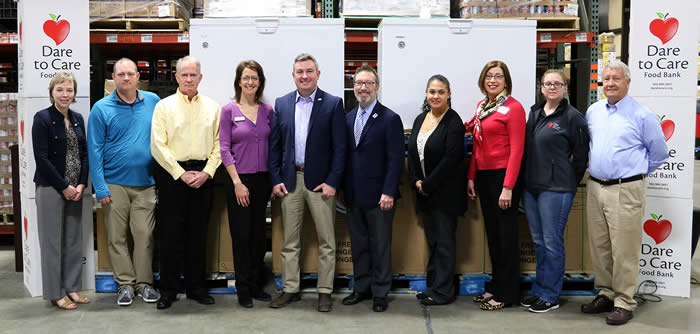 Agriculture Commissioner Ryan Quarles, center, and Tamara Sandberg, fourth from left, executive director of Feeding Kentucky, join staff from Feeding Kentucky, Dare to Care, and the Kentucky Department of Agriculture to celebrate the grant awards for cold storage space at Kentucky food pantries. (Kentucky Department of Agriculture photo)