Quarles Commends USDA for Hemp Announcement
Certain hemp growers may obtain insurance coverage under the Whole-Farm Revenue Protection Program in 2020
FRANKFORT (Aug. 27, 2019) — Kentucky Commissioner of Agriculture Ryan Quarles applauded the announcement from the U.S. Department of Agriculture that certain hemp growers may obtain insurance coverage under the Whole-Farm Revenue Protection Program in 2020.
"This is an important step toward reviving the hemp industry in the United States," Commissioner Quarles said. "We are grateful to the Risk Management Agency and Administrator Barbre for providing this opportunity for hemp growers to protect their investment."
Earlier this year, Senate Majority Leader Mitch McConnell and Agriculture Commissioner Quarles hosted USDA Under Secretary Greg Ibach and Risk Management Agency Administrator Martin Barbre for a dialogue with Kentucky hemp growers, processors, and researchers. During those discussions, whole-farm crop insurance emerged as one of the ways that USDA could help reduce risk to growers while the agency continued to conduct the research necessary to develop a traditional crop insurance product.
"No one person deserves credit for helping bring this crop back from the dead; it has been a Kentucky effort," said Commissioner Quarles. "I'm honored to have worked over the years with Leader McConnell, our entire congressional delegation, the Kentucky General Assembly, law enforcement professionals, our hard-working Kentucky Department of Agriculture staff, and many others to help revive this crop. I look forward to us all continuing to work together to make Kentucky the hemp epicenter of the United States."
In 2019, the Kentucky Department of Agriculture licensed 978 growers to cultivate more than 60,000 acres of hemp.
View photos from the Kentucky Hemp Forum with USDA officials here.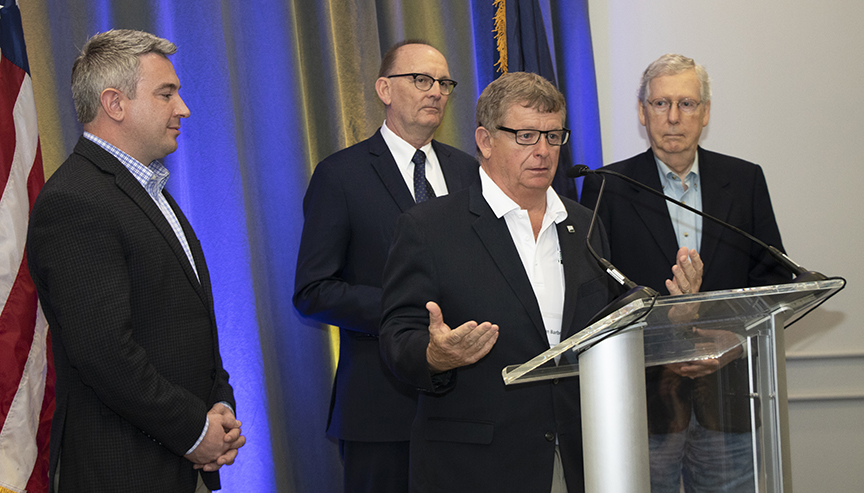 Risk Management Agency Administrator Martin Barbre speaks at a news conference during the hemp forum in April in Louisville. Also pictured are, from left, Kentucky Agriculture Commissioner Ryan Quarles, U.S. Department of Agriculture Under Secretary Greg Ibach, and Senate Majority Leader Mitch McConnell. (Kentucky Department of Agriculture photo)