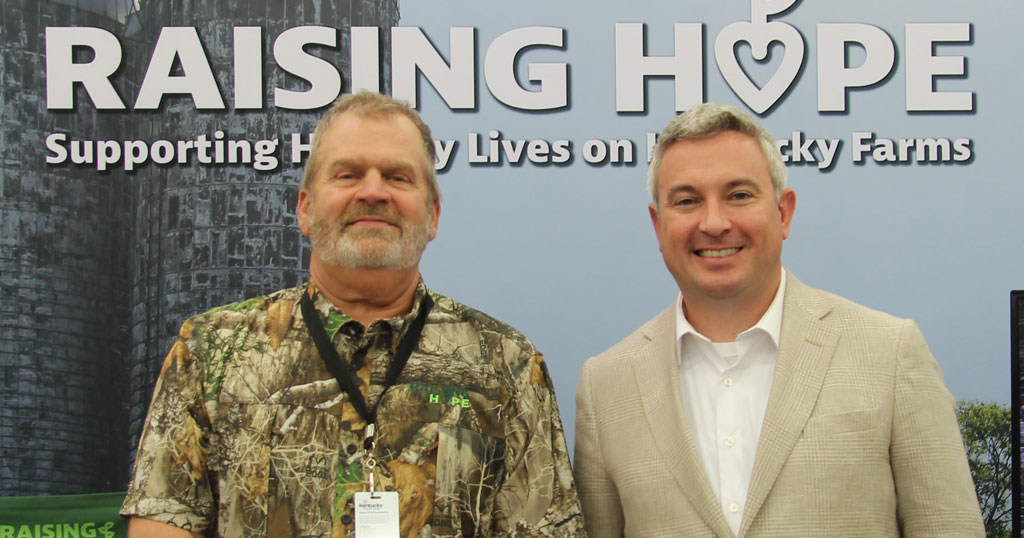 KDA farm safety training is saving lives
By Chris Aldridge
Kentucky Ag News
The number is likely higher, but Dale Dobson knows of at least eight people alive today thanks to training from the Kentucky Department of Agriculture's Farm and Home Safety Program.
Five men were saved from being smothered by grain inside silos in the last eight months by Kentucky first responders using Turtle Tube grain bin rescue sleeves. Three others, including one firefighter, were considering suicide before Dobson used the QPR (question, persuade, and refer) techniques that he helps teach.
This month highlights the importance of farm safety and health. Kentucky Agriculture Commissioner Dr. Ryan Quarles signed a proclamation declaring Sept. 18-24 as Farm Safety and Health Week.
Dobson is spending the week in western Kentucky. After holding a "Pep Rally For Life" Sept. 20 at Graves County High School, which included an ATV (all-terrain vehicle) mock rescue, Dobson is teaching a grain rescue class Saturday, Sept. 24 in Marshall County.
"Grain rescue – we started that here," Dobson boasted. "We developed the technology to speed grain rescue. The first (Turtle Tube) was made on my farm in 1994 by cutting up barrels and plastic sheets."
Another safety first also occurred on Dobson's farm in 1994, when he hosted 75 people for Kentucky's first statewide farm safety symposium. The next year, it tripled in popularity with 225 attendees.
The Louis Crosier Farm Safety Symposium continued to grow when Dobson joined the Kentucky Department of Agriculture (KDA) in 1998.
"(Former) Commissioner Billy Ray Smith made it a state program," Dobson said. "It kept growing, so we merged it with Dixie Firefighters. Next year, we'll host the 30th annual symposium."
Dobson has had a busy summer, ramping back up after a two-year slowdown because of the COVID-19 pandemic.
"Requests from other states are piling up," he said. "Before COVID, I was doing about 115 programs per year in front of about a million people. It used to be nothing to drive 1,000 miles per week."
This summer has been similar to pre-2020, when Dobson's two KDA trucks averaged more than 50,000 miles per year.
"We've been to Wisconsin, Minnesota, Tennessee twice, and North Carolina – all since July," he said. "I had all these requests, so I had to make them all work."
Dobson has taught farm safety in 18 states, including the aforementioned four. They include: Alabama, Arizona, Georgia, Illinois, Indiana, Iowa, Missouri, Ohio, Oklahoma, Texas, Utah, Virginia, and West Virginia.
"I've built a pretty good reputation," he said. "They know who I am."
Dobson's reach could be even farther, but due to demand, he's limited on how much out-of-state travel he can do. The goal is to help other states but also make sure there is plenty of time for in-state training for ag producers and rescue personnel.
"Our program is one of the tops in the nation," KDA Chief of Staff Keith Rogers said, explaining why Dobson and his team is so popular.
"I appreciate him saying words like that," Dobson said. "There's no doubt we are. We're showing other states how to teach safety."
The KDA's Rollover Tractor Simulator continues to be the only one of its kind in the nation. Push a button and a John Deere 4105 compact tractor bolted to a trailer turns over with a dummy in the seat. The fate of the dummy demonstrates the need for a rollover protective structure.
Dobson said KDA is in the process of building a new state-of-the-art rollover tractor simulator, which will also have an attachment to teach Bush Hog safety.
If you meet Dobson face-to-face these days, he will likely offer to shake your hand and give you a challenge coin, part of the Raising Hope suicide prevention program. He has shaken hands with everyone from a struggling Kentucky farmer to agriculture commissioners in Minnesota and Tennessee.
"I have shaken, as of today, 726 hands," Dobson said on Sept. 19. "The biggest thing in the world we have learned from all this is people just want to be appreciated.
"A handshake and a hug can change somebody's life," he added. "You do not know what demons each and every one of us are wrestling every day!"