Kentucky CSA inspired by 'godfather'
By Chris Aldridge
Kentucky Ag News
February is Black History Month and this is CSA Week, the perfect time to recognize the oft-overlooked contributions of the late horticulturist Booker T. Whatley.
Whatley, who was an agriculture professor at Tuskegee University in Alabama, has been called "the godfather of the CSA." Although he didn't coin that abbreviation for community supported agriculture, he introduced the direct marketing concept in the 1960s as a way for small farmers to make a living.
CSA customers pay up front for shares of a season of food as a way of guaranteeing business. Kentucky Proud, the official agricultural marketing brand of the commonwealth, is currently co-hosting CSA Week Feb. 20-24 to connect consumers with CSAs.
According to Black Soil KY, whose mission is to reconnect Black Kentuckians to their heritage and legacy in agriculture, 1.4 percent (about 600) of the roughly 76,000 farms in the state are owned by Black farmers. That's fewer than the national figure of 2 percent.
Black farmers, such as Travis Cleaver, owner of Cleav's Family Market in central Kentucky, are fighting to reclaim their agricultural heritage while also supporting their local communities by following Whatley's CSA concept.
"Mr. Whatley was a man before his time; he was a visionary," Cleaver said. "He was doing this (CSA) thing with index cards and stamps. Now we have cell phones and social media. I can put a post on Facebook and reach 500 people in seconds."
Whatley called his CSA a "clientele membership club." Cleaver also prefers to call his CSA a "buyer's club."
Cleav's Family Market offers vegetable bundles priced at $25-$35 a week for a family of four. The bundles are offered for 18 weeks during the growing season from June through September. Meat bundles of fresh eggs and local pork, beef, and chicken are also available. Visit www.CleavsFamilyMarket.com for more information.
"We base ours after what Booker T. Whatley did," Cleaver said, noting subscribers receive a weekly bundle list (meat and seasonal produce) via email on Tuesday nights.
Unlike most CSAs, which require prepayments for the entire growing season, each member of Cleav's buyer's club must confirm their order weekly, by 8 p.m. Thursday, before they are distributed Saturday to pick-up locations in Lexington, Louisville, Elizabethtown, and Hodgenville. This format enables families to buy fresh produce when they can afford to, with no penalties if they skip a week or two.
Cleaver believes the pay-ahead CSA model fails to be inclusive and accessible to many. "I was raised by a single mother, so I know it's hard to come up with $600 when the rent's due," he told Modern Farmer magazine.
Cleaver, who was named 2021 Small Farmer of the Year by Kentucky State University, is the third farmer in four generations of his family. His great grandfather was a sharecropper. Travis grew up working on his father's tobacco farm in LaRue County near Hodgenville.
Like many Kentuckians, Travis' dad "grew an acre of tobacco, had four or five cows, and raised pigs for the family," Travis said. "Our family farm was only 14 acres, but to me, it was like the Ponderosa."
Travis is referring to the thousand-acre Nevada ranch featured on the classic TV series "Bonanza." And like the Cartwright brothers, Travis' passion is raising livestock; he grew up showing cattle in 4-H competitions.
"We raise beef cows, chickens, pigs, and five acres of vegetables," Travis said. "We direct market most everything."
In addition to the family farm in LaRue County, Travis bought a farm in Hart County near Bonnieville to boost his total acreage to around 100.
"The majority of our production is in Bonnieville," Travis said. "All our cows are there, and three H-2A (guest) workers live there part of the year. Without them, all this couldn't happen because I still work 50 hours a week."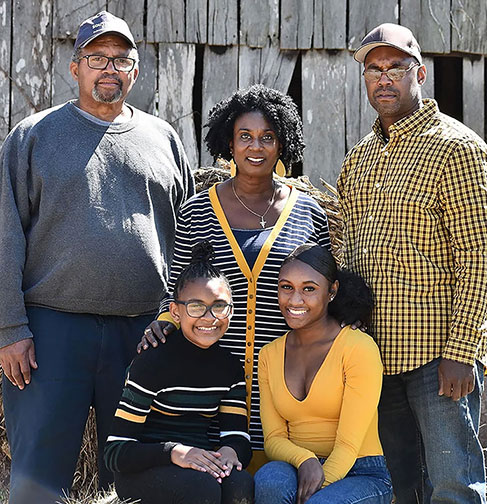 Travis has worked for CSX railroad for 21 years, frequently making the 175-mile run between Louisville and Nashville as a freight train conductor.
Cleav's Family Market is truly a family affair, with Travis' parents and his two daughters all working alongside one another. Summers are the busiest with harvesting, packaging, and selling orders of seasonal vegetables and meat.
Travis said the farm pays for itself but doesn't make enough at the moment to replace his full-time job. His goal is to pass the growing CSA to his two teenage daughters.
"Some people like to hunt, some people like to go to sporting events," Travis reportedly said. "Farming is my safe haven; farming is my happy place."