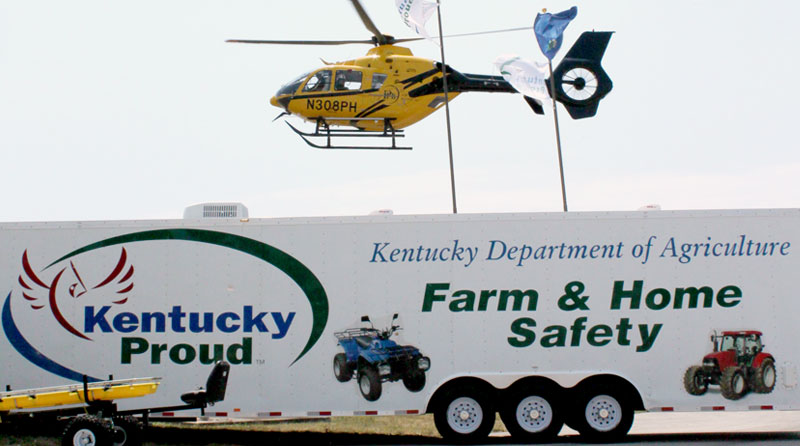 Commissioner Quarles proclaims Sept. 20-26 as Farm Safety and Health Week in Kentucky
Report: 12 Kentuckians died in agriculture and related occupations in 2019
LEXINGTON, Ky. (Sept. 16, 2020) – Agriculture Commissioner Dr. Ryan Quarles has proclaimed Sept. 20-26 as Farm Safety and Health Week in Kentucky to encourage farmers and farm workers to put safety first at all times. The theme for this year's safety week is "Every Farmer Counts."
"Farmers face a variety of risks in the course of their work, from machinery accidents, chemical exposure, unruly livestock, grain bin entrapment, severe weather, and many others," Commissioner Quarles said. "In Kentucky, we have made great strides to mitigate these risks to make farming safer than ever before. But one farm fatality is one too many. Every farmer counts.  When we lose a farmer, it's not just the farmer who is affected – family members, employees, and business partners all suffer. Whether you are on the farm, on the road, or in the home, please take that extra step to protect yourself and those around you."
The Kentucky Injury Prevention and Research Center reported that 12 Kentuckians engaged in agriculture, forestry, fishing, and hunting died on the job in 2019, compared with 14 in 2018 and 50 in 1995.
The Kentucky Department of Agriculture (KDA) operates a Farm & Home Safety Program that provides educational resources and training to ensure the safety of farmers and their families. The farm and home safety team is always in high demand and in an average year appears in more than 100 events, including the National Farm Machinery Show; the Kentucky State Fair; the Sunbelt Ag Expo in Moultrie, Georgia; and the Milan No-Till Field Day in Milan, Tennessee.
In light of the coronavirus pandemic, KDA's Farm & Home Safety Program has teamed up with the University of Kentucky's Southeast Center for Agricultural Health and Injury Prevention to create safety videos focusing on awareness of injury risks and mental health needs for farmers. Videos will focus on rollover tractor, ATV and lawnmower injuries, and farmer mental health. Other videos will encourage the public to share the road with farm machinery and to enforce the importance of farmers to practice sun and heat safety while working outside.
In the last few years, Commissioner Quarles and State Representative Brandon Reed have worked to bring attention to not only physical risks involved in agriculture, but also mental health issues on the farm.  To raise awareness about the mental health resources available for farmers, the Kentucky House of Representatives passed House Resolution 59, which declares the Wednesday of Kentucky's Farm Safety and Health Week "Farmer Suicide Prevention Day" in Kentucky. This year, the prevention day falls on Sept. 23.
"Farming is one of the most fulfilling and rewarding professions, but our farmers also carry a great deal of stress," Representative Reed said. "The men and women who farm are serving our nation in the most fundamental way. The least we can do is take a moment during Farm Safety Week to raise awareness about suicide in the farming community. I appreciate the opportunity to collaborate with Commissioner Quarles on this important issue."
Kentucky's Farm and Safety Health Week coincides with the National Farm Safety and Health Week. With a theme of "Every Farmer Counts," this week acknowledges, celebrates, and uplifts America's farmers and ranchers who have encountered many challenges, yet continue to work hard to provide the food, fiber, and fuel the public need.