Kentucky Beef Burgers, Cheese Slices Donated To Feeding Kentucky on National Beef Burger Day
FRANKFORT, KY (May 28, 2020) – The Kentucky Beef Council and The Dairy Alliance have teamed up to donate 48,000 Kentucky Proud beef burgers and 114,000 slices of cheese to Feeding Kentucky on National Beef Burger Day, Agriculture Commissioner Dr. Ryan Quarles announced today.
"May is beef month and today is National Beef Burger Day, and I cannot think of a better way to celebrate than the announcement that burgers and cheese slices are on their way to hungry Kentuckians," said Commissioner Quarles. "Today's announcement is just another example of how the Kentucky Hunger Initiative has brought our agricultural community together during this trying time for our state and nation. I would like to thank the Kentucky Beef Council, The Dairy Alliance, and all of our Kentucky Hunger Initiative donors who made this possible."
The beef burgers were purchased from Beef Solutions LLC, which produces Kentucky Cattlemen's Ground Beef, a fresh, natural beef product raised by Kentucky farm families. The beef is ground and packaged by Creation Gardens of Louisville. Kroger donated the cheese as part of the grocer's Zero Hunger Zero Waste Initiative. The product will be delivered to God's Pantry Food Bank in Lexington next week, and it will be distributed to all of Feeding Kentucky's seven member food banks thereafter.
"Kentucky food banks often see limited donations of meat protein and dairy products that can be delivered to pantries serving those who are hungry," said Michael Halligan, CEO of God's Pantry Food Bank. "The COVID-19 crisis has increased food insecurity across the Commonwealth. Many are hungry for the first time. Many thanks, on behalf of Feeding Kentucky and all seven member food banks, to Commissioner Quarles and all of the Kentucky Hunger Initiative donors for providing beef patties and cheese slices during these unprecedented times."
The Kentucky Beef Council and The Dairy Alliance raised funds to purchase ground beef and dairy, with the support from Farm Credit Mid-America, and Central Kentucky Ag Credit. Feeding Kentucky matched the funds designated for supporting Kentucky farmers for distribution through the food bank network.
"Beef producers continue to work every day to provide beef to our communities. Today's donation will provide 6 tons of beef, representing just over two servings of beef donated for every one of the 38,000 cattle producers in the state," stated Steve Dunning, cattle producer and Kentucky Cattlemen's Association president. "We are excited and grateful for the opportunity to collaborate with these partners and ensure high quality beef is fueling our families when we need it most."
"We are happy to partner with the Kentucky Beef Council and Feeding Kentucky to support our hungry friends and neighbors with nutritious dairy and beef products through the Department of Agriculture's Kentucky Hunger Initiative," stated Ronnie Patton, a Kentucky dairy farmer. "During this unprecedented time, it's important to make sure we are all working together toward a common goal of helping those in need. Like all other days of the year, local dairy farm families are working hard to make sure the milk their cows are producing gets to consumers."
The government-ordered closure of schools, businesses, and other organizations has led to an estimated 35 percent increase in hunger in Kentucky, according to Feeding America. The state affiliate, Feeding Kentucky, reports Kentucky households with children are more likely to be food insecure.
The Kentucky Hunger Initiative was launched in 2016 by Commissioner Quarles to bring together farmers, charitable organizations, faith groups, community leaders, and government entities to reduce hunger in Kentucky. Learn more by visiting kyagr.com/hunger.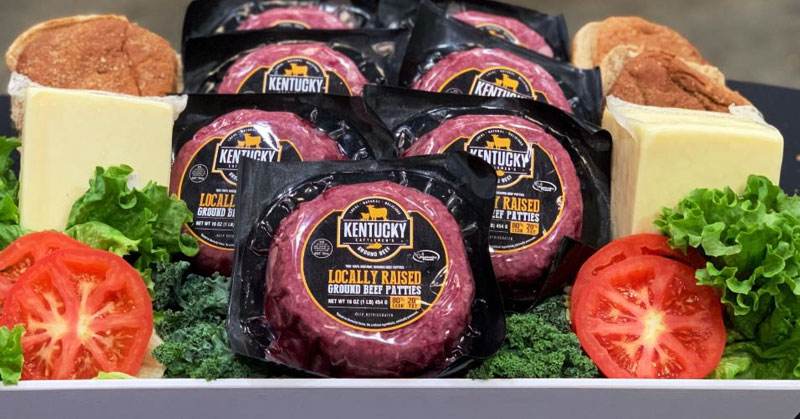 Kentucky Cattlemen's Beef Burgers and cheese slices sit on a platter earlier today at God's Pantry Food Bank. (photo courtesy of God's Pantry Food Bank)