Quarles Praises Trump Administration For WOTUS Replacement Rule
EPA Administrator Wheeler Unveiled Navigable Waters Protection Rule Jan. 23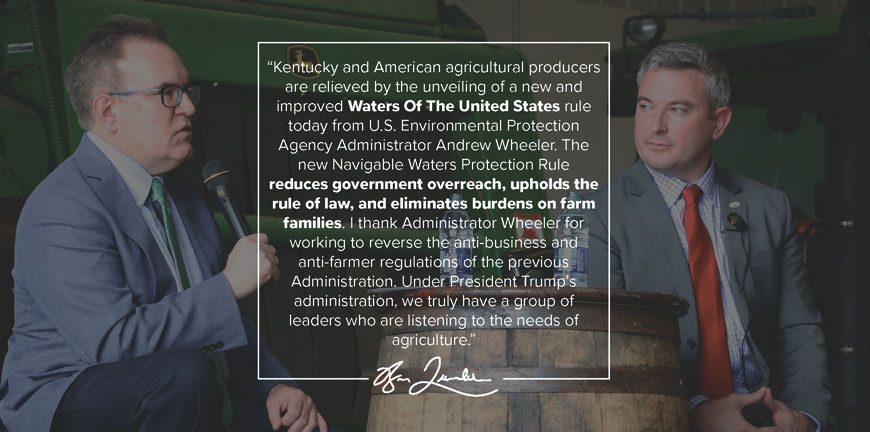 WASHINGTON (January 23, 2020) – Agriculture Commissioner Dr. Ryan Quarles praised the unveiling of the Navigable Waters Protection Rule (NWPR) by the Trump Administration's Environmental Protection Agency (EPA). The rule replaces the Obama-era Waters Of The United States (WOTUS) rule.
"Kentucky and American agricultural producers are relieved by the unveiling of a new and improved Waters Of The United States rule today from U.S. Environmental Protection Agency Administrator Andrew Wheeler," Commissioner Quarles said. "The new Navigable Waters Protection Rule reduces government overreach, upholds the rule of law, and eliminates burdens on farm families. I thank Administrator Wheeler for working to reverse the anti-business and anti-farmer regulations of the previous Administration. Under President Trump's administration, we truly have a group of leaders who are listening to the needs of agriculture."
An Obama-era regulation, WOTUS significantly expanded the definition of "waters of the United States" and "navigable waters" under the Clean Water Act. National and state agricultural organizations, including the American Farm Bureau Federation and Kentucky Farm Bureau, said the 2015 rule placed an undue burden on American farmers and advocated for its replacement.
For Immediate Release Media Contact:
Sean Southard
sean.southard@ky.gov