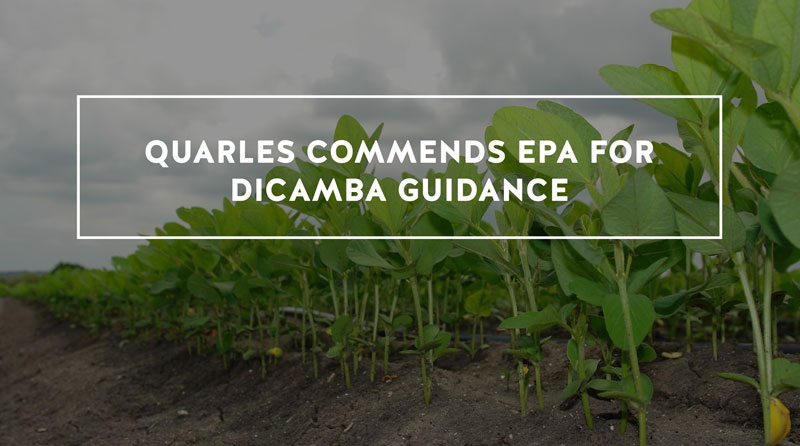 Quarles commends EPA for updated dicamba guidance and restrictions
New guidelines extend registration for five years
FRANKFORT (Oct. 28, 2020) – Agriculture Commissioner Dr. Ryan Quarles commended the U.S. Environmental Protection Agency (EPA) and Administrator Andrew Wheeler for extending the registration for dicamba-based crop technology for five years and issuing reasonable rules governing its use.
"Just last week, the Kentucky Department of Agriculture and agricultural producers participated in a roundtable with representatives from the EPA and urged the agency to quickly issue clear guidance governing the use of dicamba-based crop technology," Commissioner Quarles said. "I am glad to see Administrator Wheeler provide new guidelines for its use, especially as our soybean producers are making decisions for the 2021 growing season."
The new EPA guidance includes the following restrictions and modifications:

Requiring an approved pH-buffering agent (also called a Volatility Reduction Agent or VRA) be tank mixed with OTT dicamba products prior to all applications to control volatility;
Requiring a downwind buffer of 240 feet and 310 feet in areas where listed species are located;
Prohibiting OTT application of dicamba on soybeans after June 30 and cotton after July 30; and
Simplifying the label and use directions so that growers can more easily determine when and how to properly apply dicamba.
"The Agribusiness Association of Kentucky would like to thank the U.S. Environmental Protection Agency and Administrator Wheeler for providing this clear guidance so that farm supply stores, retailers, and producers are able to plan for next year's growing season," said Tod Griffin, executive director of the Agribusiness Association of Kentucky. "We would also like to express our gratitude to Commissioner Quarles for always hearing our concerns and for making sure federal partners hear the concerns of Kentucky agribusinesses."