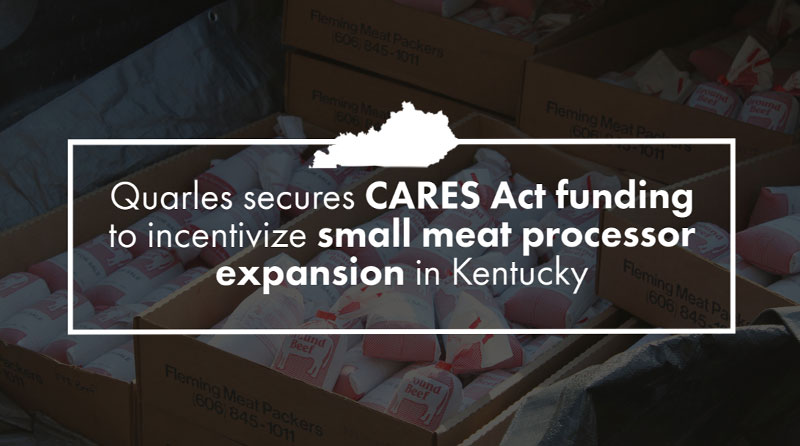 Quarles statement on Governor's announcement that he will fulfill request for CARES Act
Commissioner Quarles had requested $2 million in funding to expand meat processing
FRANKFORT (Nov. 5, 2020) – Agriculture Commissioner Dr. Ryan Quarles released the following statement upon learning Governor Beshear would be fulfilling the Quarles administration's request for $2 million of Coronavirus Aid, Relief, and Economic Security (CARES) Act funding for meat processing:
"Early in the pandemic, many Kentuckians went to the grocery store and for the first time in their lives saw a shortage of meat products on grocery shelves," Commissioner Quarles said. "That's why the Kentucky Agricultural Development Board moved in May to develop an incentive program to expand our small meat processors in Kentucky. I learned from Governor Beshear's press conference that he is fulfilling my request for expanded funding. I look forward to working with the Agricultural Development Board to continue diversifying Kentucky agriculture with these funds and supporting our cattle producers as we fight the pandemic."
In the letter, Commissioner Quarles noted how the shutdown of the American economy resulted in temporary backlogs of meat processing, which led to meat shortages at grocery stores. In May, the Kentucky Agricultural Development Board established a Meat Processing Incentive Program (MPIP) to encourage Kentucky meat processors to expand, reducing reliance on out-of-state meat processors. Commissioner Quarles also pointed to states, such as Oklahoma, Iowa, Arkansas, and Wyoming, as having used CARES Act funding for this purpose.
On Monday, Commissioner Quarles wrote an opinion editorial advocating for expanding meat processing capacity and other measures to support farmers and small businesses during the pandemic.
Read the letter to Governor Beshear from Commissioner Quarles here.