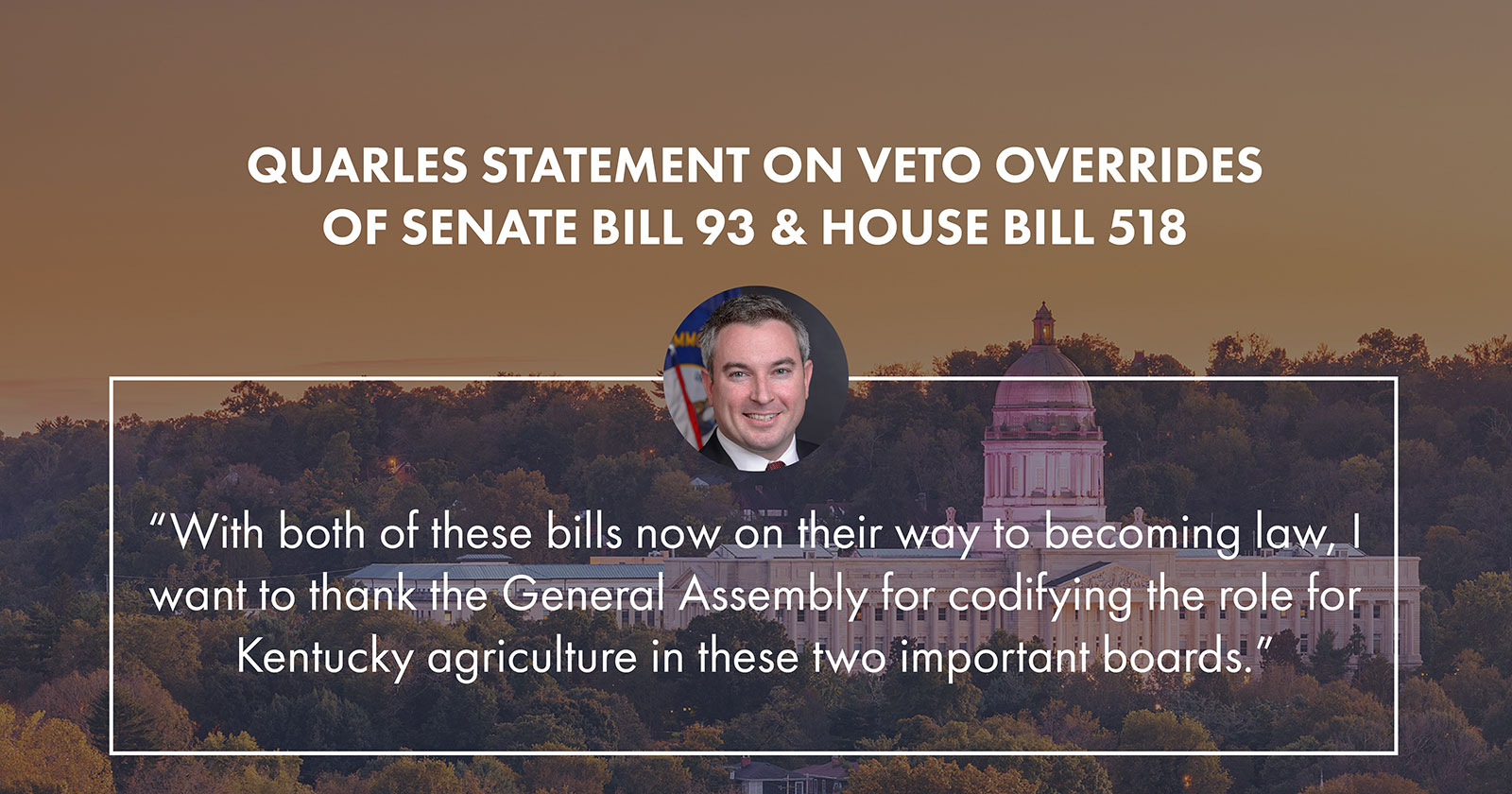 Commissioner Quarles' statement on veto overrides of SB 93, HB 518
FRANKFORT (March 29, 2021) – Agriculture Commissioner Dr. Ryan Quarles issued the following statement after the General Assembly overrode two vetoes from Governor Andrew Beshear. With the vetoes overridden, the General Assembly has granted additional appointment authority for the State Board of Agriculture and the Kentucky State Fair Board to the Commissioner of Agriculture.
"With both of these bills now on their way to Secretary of State Michael Adams for his signature, I want to thank the General Assembly for codifying the role for Kentucky agriculture in these two important boards," Commissioner Quarles said. "The State Board of Agriculture is the top advisory board to me and the Department. It also has responsibility over the selection of Kentucky's state veterinarians, who are employed by the Department to help protect animal agriculture from foreign animal disease. Senate Bill 93 recognizes how the State Board of Agriculture has functioned in practice for a long time. As I have said, it just makes sense that the Commissioner of Agriculture, whoever he or she may be, has the authority to appoint his or her own advisors."
"With regard to House Bill 518, I simply wish to state that I sincerely value the role the Kentucky State Fair Board plays in governing Kentucky Venues and its properties, which include the Kentucky Expo Center. I pledge to keep Kentucky's agricultural history in mind when making appointments to the Fair Board. I also think the addition of the Speaker of the House and the Senate President to the Fair Board will ensure that the Board has a vision consistent with the will of the people across the Commonwealth of Kentucky."