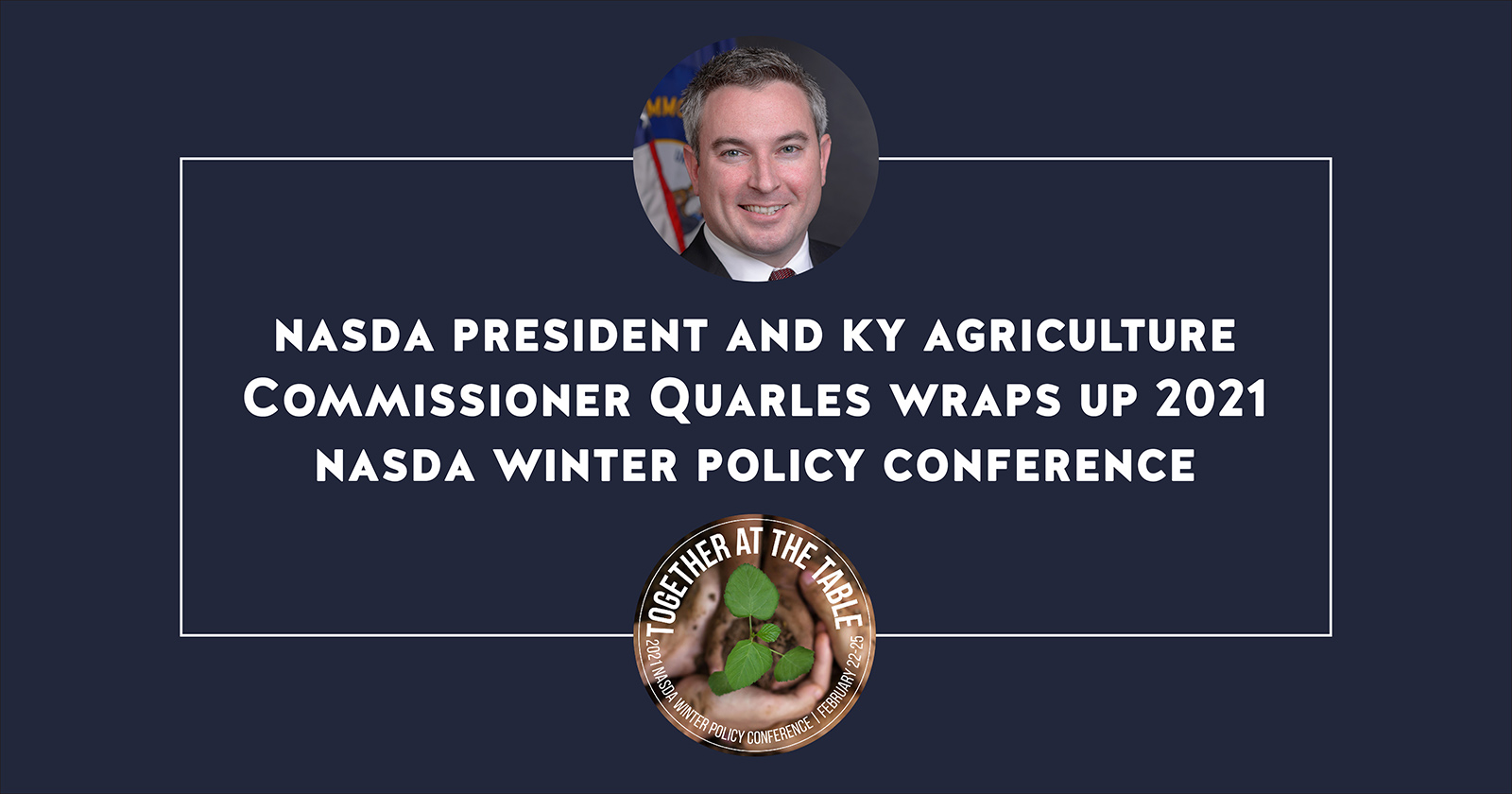 Quarles wraps up national winter policy conference
FRANKFORT (Feb. 25, 2021) – Earlier today, Agriculture Commissioner Dr. Ryan Quarles wrapped up the Winter Policy Conference for the National Association of State Departments of Agriculture (NASDA). Quarles serves as NASDA president.
"The NASDA Winter Policy conference gives agricultural policymakers an opportunity to learn from one another as we seek to continue supporting farm families across the nation during the coronavirus pandemic," Commissioner Quarles said. "Several new policies adopted by NASDA will benefit Kentucky. I am proud of NASDA's bipartisan commitment to finding solutions to the problems facing Kentucky producers."
The 2021 NASDA Winter Policy Conference focused on the theme, "Together at the Table," as an ode to the organization's mission to be a convener for the nation's food and agriculture industry. Held Feb. 22 – 25, the agenda featured more than 25 speakers, who challenged conventional thinking and shared the latest in global food and agriculture policy. During the conference, Commissioner Quarles hosted panels with U.S. Secretary of Agriculture Tom Vilsack, Senator John Boozman (R-AR) who serves as Ranking Member for the Senate Committee on Agriculture, House Agriculture Committee Chairman David Scott (D-GA), and Ranking Member Representative G.T. Thompson (R-PA).
During the conference, Commissioner Quarles also announced the release of the NASDA Food Security Toolkit designed to share successes of state food security programs and equip state agriculture departments with additional resources to fight hunger across the U.S. The toolkit was a collaborative effort between NASDA and the Kentucky Department of Agriculture, and builds upon Commissioner Quarles' commitment to bring together farmers, government, businesses, and nonprofits to reduce hunger in the United States.
"We are making a promise to continue upholding our duty to grow and enhance American agriculture to nourish people and communities," Commissioner Quarles said. "State departments of agriculture and our farm families have a special role to play in feeding a hungry nation. The vision for the NASDA Food Security Toolkit began prior to the COVID-19 pandemic, understanding the need for better food security is not a new issue. This platform to share successes will ignite the work of our commitment to end hunger in the United States."
Quarles was elected president of NASDA in September 2020. He is the first Kentuckian to serve in the role since former Commissioner of Agriculture Billy Ray Smith served as NASDA president in 2001.
NASDA is a nonpartisan, nonprofit association which represents the elected and appointed commissioners, secretaries and directors of the departments of agriculture in all 50 states and four U.S. territories. Established in 1916, NASDA grows and enhances American agriculture through policy, partnerships and public engagement. Learn more about NASDA at nasda.org.