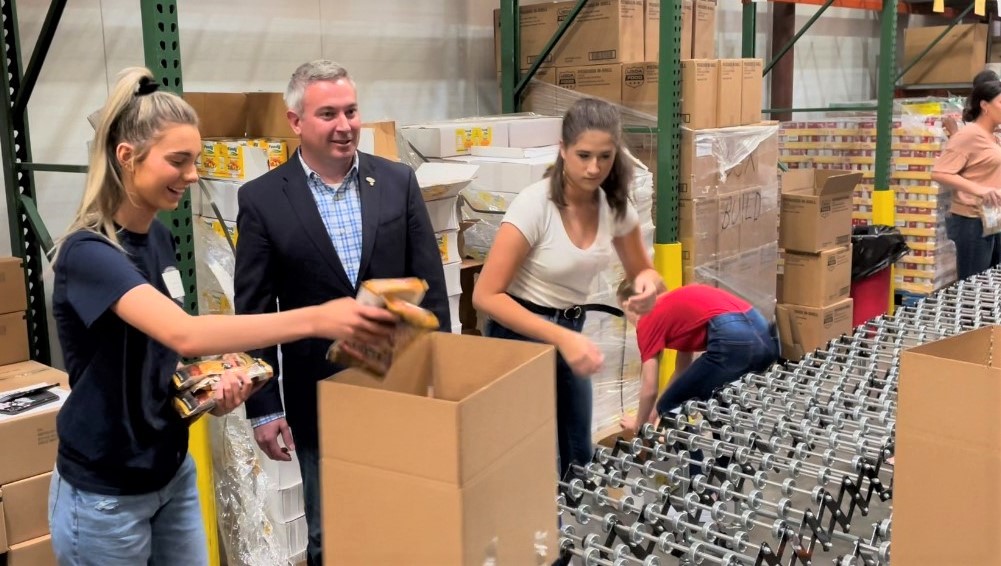 Commissioner joins Miss Kentucky candidates at food-packing event
Items will help those in Central and Eastern Kentucky experiencing hunger
FRANKFORT (May 2, 2022) - On Sunday, Kentucky Agriculture Commissioner Dr. Ryan Quarles joined this year's Miss Kentucky and Miss Kentucky's Outstanding Teen candidates at God's Pantry Food Bank in Lexington as they packed food staples and sundries to be sent to food pantries across the commonwealth.
"This was an excellent event. We reached a new group of people to show them the realities of those who face food insecurity," Commissioner Quarles said. "The Kentucky Hunger Initiative was one of the first programs I started as Kentucky Agriculture Commissioner.It's a blessing to be able to continue to spread the message and encourage others to see the benefit of volunteering. Thank you to all who helped make this special event happen and allowing us to do some good today."
The Hunger Initiative, started by Commissioner Quarles in 2016, brings together farmers, charitable organizations, faith groups, community leaders, and government entities to begin a dialogue to help reduce hunger in the commonwealth. Even though Kentucky is a rich agricultural-based state, one is seven Kentuckians is food insecure, including one in six children.
God's Pantry Food Bank is one of seven food banks that serve residents throughout the commonwealth. Serving a 50-county region in Central and Eastern Kentucky, the Food Bank is in partnership with more than 450 food pantries and meal programs to feed many of the more than 250,000 individuals who are living with food insecurity in its service area. In Fiscal Year 2021, the Food Bank distributed 41.8 million pounds of food, including nearly 13 million pounds of fresh produce.
"We are grateful to the Miss Kentucky candidates and the Kentucky Department of Agriculture for their partnership to work together and help feed those experiencing hunger in Kentucky Communities," said D'wan Carey, Volunteer and Food Drive Team Lead at God's Pantry Food Bank.
One way God's Pantry Food Bank accomplishes its mission is by working with volunteers. Sunday's event brought together the 2022 Miss Kentucky and Miss Kentucky's Outstanding Teen candidates to help sort food donations and pack food boxes for families and individuals experiencing hunger.
"The numbers surrounding food insecurity in Kentucky are disconcerting.You wonder how can this be?It seems that this should be in the news and making headlines each and every day," said Brian Jeffries, executive director of the Miss Kentucky Scholarship Organization."We extend our gratitude to the Kentucky Department of Agriculture and to God's Pantry Food Bank for affording the young women of the Miss Kentucky Organization the opportunity to contribute to this mission of 'Reducing hunger by working together to feed Kentucky's communities.'"
Since service is one of the pillars of the Miss America Organization, each Miss Kentucky candidate is committed to a Social Impact Initiative important to her.The candidates' passions for the service work frequently involves them in projects that improve the lives of people in their communities and the commonwealth.
"It is important for young people to be granted the opportunity to serve others, to experience the feelings of growth and self-worth that come from those opportunities, and to see the need and value of community service in today's society," Jeffries said. "By affording young people these experiences, we lay the foundation for a life of service."
The 2022 Miss Kentucky and Miss Kentucky's Outstanding Teen will be crowned June 18 at the Southern Kentucky Performing Arts Center in Bowling Green.