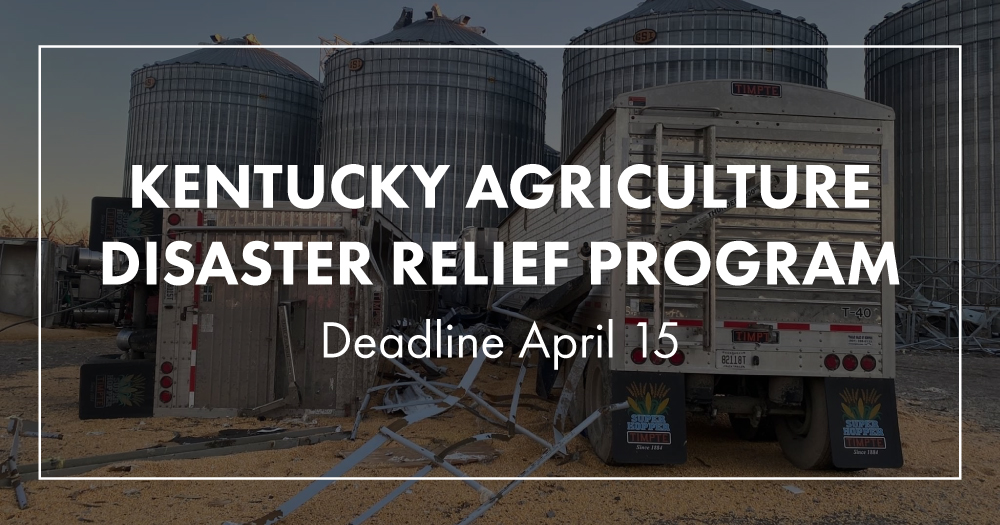 Commissioner visits Ohio County farm retailer to discuss tornado-relief program
Eligible farmers can make purchases at local retail stores to help with storm damage repairs
FRANKFORT (April 5, 2022) - During a visit to Ohio County, Kentucky, Agriculture Commissioner Dr. Ryan Quarles stopped in to see Toni and Forrest Kavanaugh, the owners of the Ohio County Farm and Garden Center. He spoke with them and Ohio County Extension Agent, Greg Comer, about the challenges they are seeing from farmers and agriculture producers who had damage from the December and January tornadoes.
The Kavanaughs have owned the Hartford-based retail farm and garden store for 36 years offering a variety of farm and garden supplies and power equipment. Their store is just one of several local farm retailers in Western Kentucky where farmers can receive financial assistance recovering from tornado damage through the Kentucky Agriculture Disaster Relief Program. The disaster relief program was launched by the Kentucky Department of Agriculture, Kentucky Center for Agriculture and Rural Development (KCARD), and the Kentucky Farm Bureau.
"December's and January's tornadoes devastated farms and agricultural properties," Commissioner Quarles said. "Funds through the Kentucky Agriculture Disaster Relief Program are a way to help affected farmers get back some of what they lost. Agriculture is the backbone of our lives. Getting them back to normal is essential for the entire community."
Farmers who experienced damage in the December 2021 and January 2022 weather disasters still have time to take advantage of the program designed to offset costs from the storms, Commissioner Quarles said. The deadline for farmers to complete purchases for the first round of disaster relief is April 15.
At her store, Toni Kavanaugh and her husband, have helped about 40 producers, including cattle, crop, and poultry farmers, take advantage of the program, getting the items they need to get back to farming.
"We're just so thankful," she said. "It's been so easy for farmers to get the supplies they need and the funds are an immediate help. Some have purchased supplies, others have purchased power equipment … whatever they need for their farms."
The size of Ohio County and its diversity of agriculture equated to an extensive amount of damage from the tornadoes, according to Comer, who has served as the Ohio County Extension agent for 35 years.
"The tornado was on the ground for 40 miles in Ohio County," Comer said. "It went all the way across the county, creating mass destruction. We were fortunate to not have any lives lost, but our agriculture community was hit hard."
As farmers began assessing damage, Comer said many were shocked at the prices quoted to rebuild lost structures. One farmer learned a grain storage bin he built a few years ago for $113,000 was going to cost $280,000 to replace. He has four bins to replace.
"What we've learned is many farmers don't have the adequate insurance to replace these structures without help," Comer said.
Assistance programs, such as the one coordinated by the KDA, Kentucky Farm Bureau, and KCARD, are helping farmers with more immediate needs as they plan for the long-term.
Since it started, the fund, which is being disseminated through the Kentucky Farm Bureau Education Foundation, has grown to more than $1.5 million. In the first round of assistance, qualifying farmers can receive up to $1,500 in credit to purchase needed supplies from participating farm retailers.
To qualify, farmers will have to certify that theyhave farm property in one of the following counties and experienced farm damage from the storms on Dec. 10 and 11, 2021, and on Jan. 1, 2022:Barren, Caldwell, Calloway, Christian, Fulton, Graves, Hart, Hickman, Hopkins, Logan, Lyon, Marion, Marshall, Muhlenberg, Ohio, Taylor, and Warren.
If a Kentucky farmer is not located in one of these disaster-approved counties, but did have damage from these storms, the farmer can still go to a participating retailer and certify that.
Qualifying purchases through the program may include fencing supplies, t-posts and wooden posts, rope, bungee cords, livestock feed, hay, work gloves, and even tools.
For a list of qualifying purchases, instructions on how to sign up, and which retailers are participating, visit https://www.kcard.info/disaster-relief.