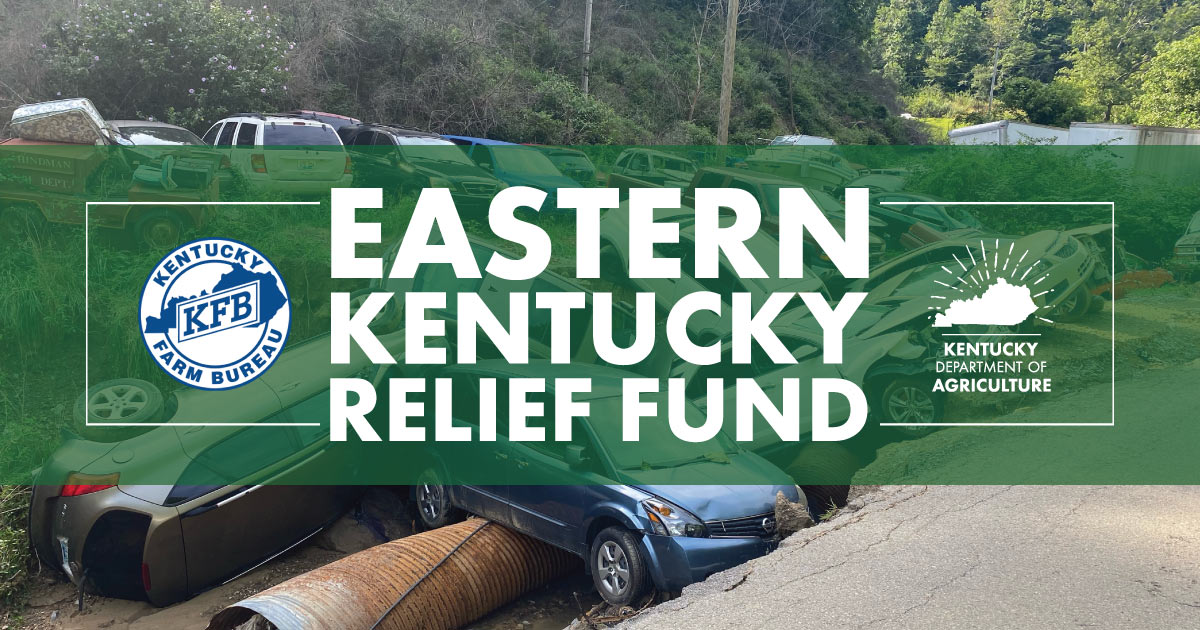 Kentucky Department of Agriculture, Kentucky Farm Bureau Federation team up to support Eastern Kentucky flood victims
Two ways to support Eastern Kentucky residents
FRANKFORT (Aug. 1, 2022) - The Kentucky Department of Agriculture (KDA) and the Kentucky Farm Bureau Federation are joining forces to raise funds for recovery efforts for Eastern Kentucky residents affected by the recent deadly and damaging flash flooding.
"When the tornadoes hit Western Kentucky late last year, Kentuckians didn't hesitate to act. Now, our neighbors in Eastern Kentucky need our help," Kentucky Commissioner of Agriculture Dr. Ryan Quarles said. "We've seen lives lost, power outages, homes knocked off foundations, and roads washed out. As the cleanup begins and we start to really see the devastation these rising waters have caused, our hearts break at the losses endured. These funds will allow families and communities to start to rebuild after these historic floods. I thank Kentucky Farm Bureau for once again joining forces with us to help Kentuckians in need."
"The heartbreaking devastation from this past week's flooding in Kentucky is overwhelming for so many families and communities throughout the commonwealth," said Kentucky Farm Bureau President Mark Haney. "So many of you have already reached out asking how you can help.The best way we feel our organization can assist those that wish to help is to relaunch our KFB for Kentucky Relief Fund to aid the families and communities affected by the devastating floods. This special account is used to give people a trusted way to financially support those in need through the coming weeks and months of disaster recovery."
The KFB for Kentucky Relief Fund is managed by the Kentucky Farm Bureau Education Foundation. Funds collected will be administered to aid flooding victims in the next weeks and months as recovery efforts get underway. The donations will be used to support the families and communities in the affected areas.
To make a tax-deductible donation to this relief fund online, please visit www.kyfb.com/KFBforKYRelief, or checks may be mailed to:
Drew Graham, Executive Vice President
Kentucky Farm Bureau Federation
9201 Bunsen Parkway
Louisville, KY 40220
Checks should be made payable to "Kentucky Farm Bureau Education Foundation" and denoted "KFB for Kentucky Relief Fund" on the memo line.
KDA is also accepting physical donations of bottled water, including individual bottles and gallon jugs, toiletries, and non-perishables items at its Frankfort location through Friday, Aug. 5.
Donations can be brought or mailed to:
Kentucky Department of Agriculture
105 Corporate Drive, Suite A
Frankfort, KY, 40601
For questions about the KDA's donation site, please call the KDA office at (502) 573-0282.