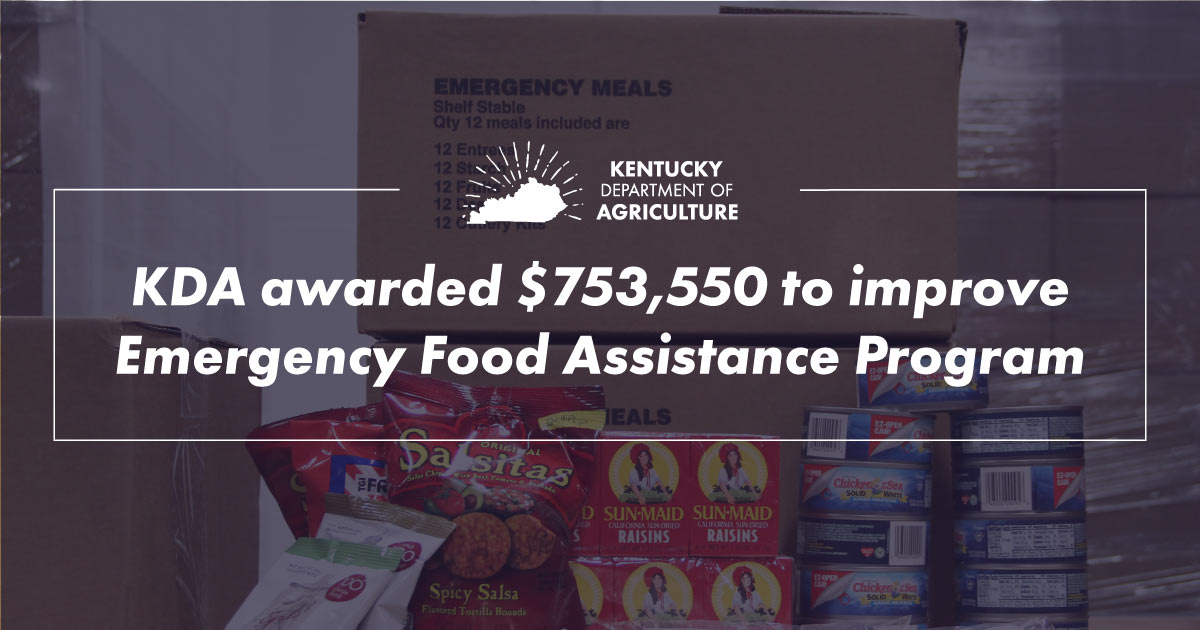 KDA receives USDA grant to improve reach, resiliency of emergency food system
Funding helps state reach remote, rural, tribal, or low-income areas
FRANKFORT (June 22, 2022) - The U.S. Department of Agriculture's Food and Nutrition Service has awarded the Kentucky Department of Agriculture (KDA) $753,550 to improve the Emergency Food Assistance Program, commonly known as TEFAP. The USDA has allocated more than $39 million in grants to 38 state agencies to help states reach into remote, rural, tribal, or low-income areas underserved by the program.
KDA will utilize this grant to support a client-based intake system at food pantries within the God's Pantry service area, helping to identify deficiencies in program coverage. Additional sub-grants will be distributed to food banks across the commonwealth to repair aging infrastructure, fund new hires, upgrade storage systems, and purchase mobile pantry vehicles and equipment.
"These additional TEFAP funds will allow us to improve the distribution of fresh and nutritious foods throughout the commonwealth," Commissioner of Agriculture Dr. Ryan Quarles said. "Reducing hunger and food insecurity in the rural and urban parts of Kentucky has always been a major priority of mine since becoming Commissioner. These new funds will help."
TEFAP is a federal program that helps supplement the diets of low-income Americans by providing emergency food assistance at no cost. Through TEFAP, USDA purchases a variety of nutritious, high-quality domestically sourced and produced food.
"USDA is committed to building back better with a food system that works for all those in need, especially communities that are systemically plagued with nutrition insecurity," said Cindy Long, USDA Food and Nutrition Service administrator. "These grants are a step in the right direction toward better serving people in remote, rural, tribal, and low-income areas with the Emergency Food Assistance Program, providing critical nutrition for those who need it."
USDA's Food and Nutrition Service (FNS) leverages its 15 nutrition assistance programs to ensure children, low-income individuals, and families have opportunities for a better future through equitable access to safe, healthy, and nutritious food, while building a more resilient food system. FNS is fighting to end food and nutrition insecurity for all through programs such as SNAP, school meals, and WIC. FNS also provides science-based nutrition recommendations through the co-development of the Dietary Guidelines for Americans. To learn more, visit www.fns.usda.gov and follow @USDANutrition.