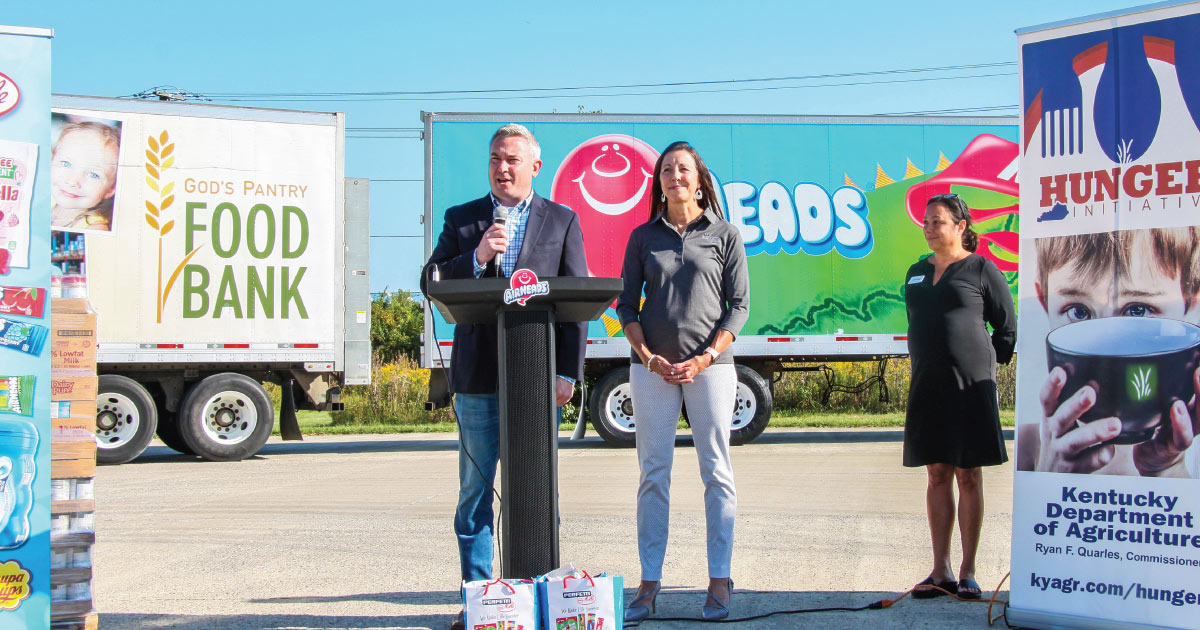 Perfetti Van Melle North America, maker of candies such as Airheads, Mentos, and more donated more than 54,000 pounds of candy to food pantries throughout Kentucky as part of the Kentucky Department of Agriculture's Hunger Initiative. The announcement was made at God's Pantry Food Bank in Winchester. Present at the event were, from left, Agriculture Commissioner Dr. Ryan Quarles, Sylvia Buxton, President and CEO of Perfetti Van Melle North America, and Danielle Bozarth, Vice President Mission Delivery at God's Pantry Food Bank. For more photos from the event click here. (Kentucky Department of Agriculture)
Kentucky food banks treated to 'sweet' donation

Makers of Airheads, Mentos provides sweet treat during Hunger Action Month
WINCHESTER (Sept. 21, 2022) – A donation as sweet as it sounds is creating smiles across the state thanks to a delivery from Perfetti Van Melle North America, maker of candies such as Airheads, Mentos, and more as part of the Kentucky Department of Agriculture's Hunger Initiative.
The candy manufacturer announced the donation of more than 54,000 pounds of candy to food pantries throughout Kentucky including God's Pantry Food Bank in Lexington, Feeding America Kentucky's Heartland in Elizabethtown, and Northern Kentucky Area Development District food pantry in Independence. The donation comes in September, the month in which the nation kicks off Hunger Action Month.
"This donation is a reminder that food banks, which often focus on providing fresh, nutrient-rich foods, can sometimes add an element of surprise to their offerings and put a smile on the faces of those who need it most," Commissioner Dr. Ryan Quarles said. "Through our Kentucky Hunger Initiative, we mostly highlight donations of fresh, Kentucky farm produce for our food insecure families. But being able to bring a 'sweet' surprise is rewarding, too."
The privately-owned global candy company is headquartered in Italy and the Netherlands, but its U.S. operations are solely based out of Erlanger, Kentucky. The donation, which was two full truckloads, contained 55 pallets of candy including some of the company's most beloved brands such as Airheads bars, Airheads Xtremes Bites, and Fruit-tella Soft Gummies.
"Serving our community is part of who are, and we feel very fortunate to work in a business where our products, like Airheads and Fruit-tella, can help people smile and enjoy an occasional candy treat," said Sylvia Buxton, President and CEO of Perfetti Van Melle North America. "Being based in Kentucky, we're honored to partner again with the Kentucky Hunger Initiative and donate our products and help the region's foodbanks deliver some of those smiles along with much needed food staples."
"God's Pantry Food Bank is so grateful for the donation from Perfetti Van Melle," said Danielle Bozarth, Vice President Mission Delivery at God's Pantry Food Bank. "The Food Bank appreciates our partnership with Perfetti in helping us reduce hunger by working together to feed Kentucky communities."
While KDA's Hunger Initiative is recognized as an all-year project, it takes on special relevance in September as food banks across the state initiate a call to action, getting shelves and reserves ready for the colder months when food scarcity may be a larger problem for food-insecure individuals across the state. The Kentucky Department of Agriculture's Hunger Initiative is a first-of-its-kind effort in Kentucky launched in 2016 by Commissioner Quarles to bring together farmers, charitable organizations, faith groups, community leaders, and government entities to reduce hunger in Kentucky.
###
About Perfetti Van Melle
Perfetti Van Melle Benelux B.V. is a privately-owned global company established in March 2001 through the merger of Perfetti SpA and Van Melle B.V.Perfetti Van Melle manufactures and markets confectionery and chewing gum products in more than 150 countries. Today, Perfetti Van Melle is one of the world's largest confectionery groups, marketing highly renowned brands such as Mentos, Frisk, Chupa Chups, Smint, Fruit-tella, Alpenliebe, Golia, Vivident, Airheads, Happydent & Big Babol. The Group has corporate headquarters in Italy and The Netherlands. U.S. operations are solely out of Erlanger, KY, where U.S. brands also include Airheads.
About God's Pantry Food Bank
The mission of God's Pantry Food Bank is to reduce hunger by working together to feed Kentucky communities. Working through more than 475 food pantries and meal programs the Food Bank serves 50 counties across Central and Eastern Kentucky. God's Pantry Food Bank distributed more than 40 million pounds of food to nearly 240,000 neighbors facing food insecurity, including more than 15.5 million pounds of fresh produce in fiscal year 2022. For more information, visit us at
www.godspantryfoodbank.org
.