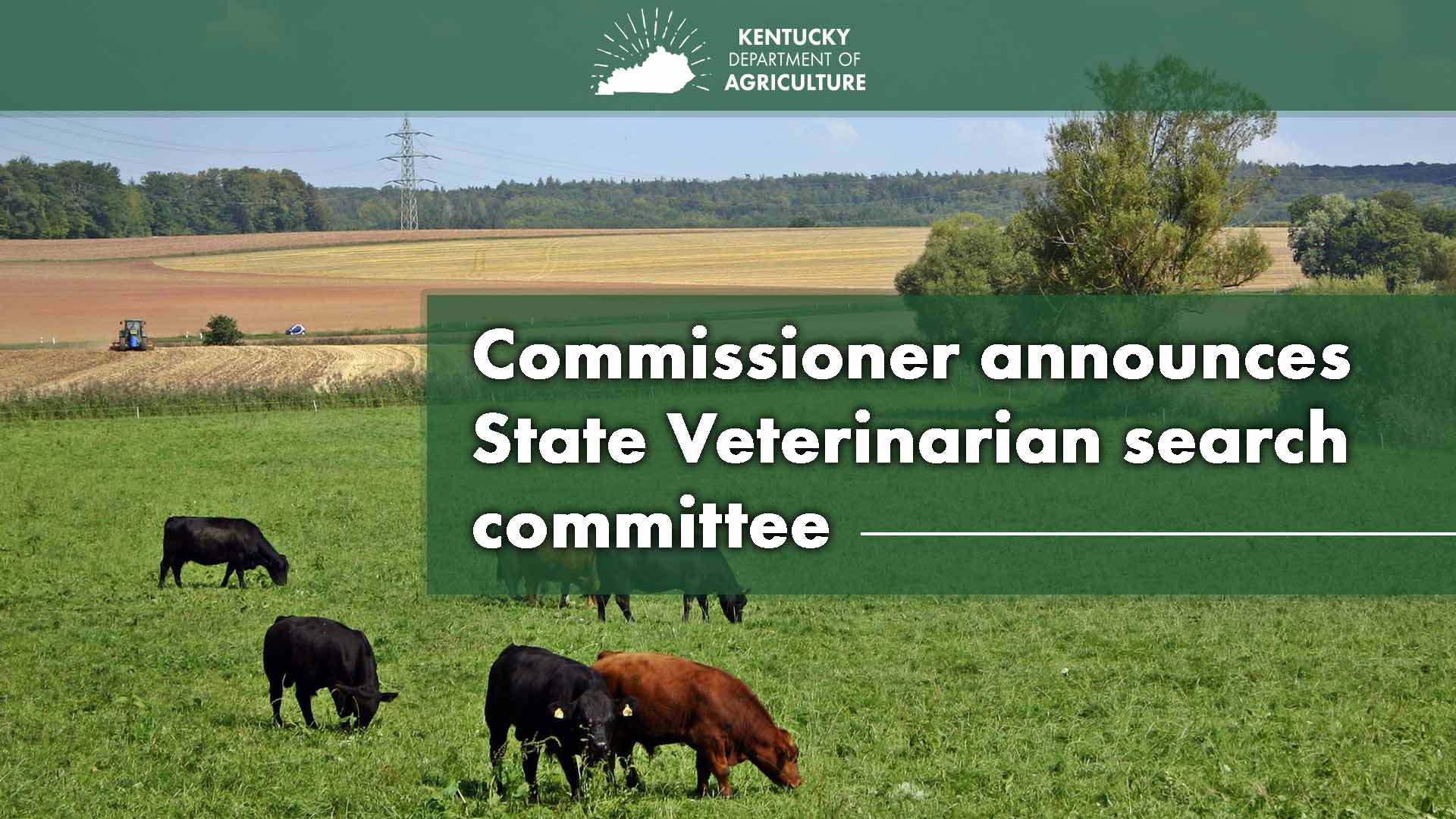 Agriculture Commissioner announces State Veterinarian search committee
Committee's work will begin after Jan. 31 application deadline
FRANKFORT (Jan. 24, 2023) – The Kentucky State Veterinarian search committee members have been named, Commissioner of Agriculture Dr. Ryan Quarles has announced.
Earlier this month, the Kentucky State Board of Agriculture (SBA) launched a national search for the position of Kentucky State Veterinarian following Dr. Katie Flynn's announcement that she will step down at the end of February to take on another position outside the department.
"Kentucky State Veterinarian is a critical position for the safety of our agriculture herds and flocks," Commissioner Quarles said. "It's vital representatives from across our agricultural animal spectrum have a voice in who will fill that position next. This search committee reflects that representation and the named members will be great advocates for the farming community as we look for our next state vet."
Members of the search committee and the industry they represent include:
-- Chair – Keith Rogers, Chief of Staff, Kentucky Department of Agriculture
-- Vice-Chair – Dean Nancy Cox, State Board of Agriculture and University of Kentucky's College of Agriculture Food and Environment
-- Eddie Melton – State Board of Agriculture
-- Mary Bach – State Board of Agriculture
-- Daniel Hayden – State Board of Agriculture
-- Seth Krantz, DVM – Kentucky Pork Producers Association
-- Becky Thompson – Kentucky Cattlemen Association
-- Jamie Guffey – Kentucky Poultry Federation
-- Charles Townsend – Kentucky Dairy Development Council
-- Shawn Harper – Kentucky Sheep and Goat Development Office
-- Lynne M. Cassone, DVM – Kentucky Veterinary Medical Association
-- Jason Becker – Kentucky Alternative Livestock Association
-- Chauncey Morris – Equine Industry
-- Dr. Katie Flynn – State Veterinarian, Ex Officio-non voting
Members of the search committee also included in the executive search committee include, Keith Rogers, Nancy Cox, Eddie Melton, Mary Bach, Becky Thompson, and Jamie Guffey. The executive search committee is tasked with reviewing candidate material and determining which candidates will be selected for interviews by the whole search committee.
The search committee will begin its work after the deadline for state veterinarian applications ends on Jan. 31, 2023.
The Office of the State Veterinarian enforces state and federal regulations on livestock movement, administers animal health programs, responds to disease outbreaks, licenses stockyards and livestock dealers, and performs numerous other duties.
The State Veterinarian is an agent of the State Board of Agriculture and leads the KDA's Office of State Veterinarian in its statutory and regulatory activities to prevent, control, and eradicate communicable diseases in the agricultural animal health sector.
Specific duties of the State Veterinarian include:
-- Serve as the Executive Director of the Office of State Veterinarian;
-- Oversee all functions of the Office of State Veterinarian;
-- Ensure that statutes and regulations are enforced;
-- Participate on the Commissioner of Agriculture's executive team;
-- Advise the Commissioner on issues involving animal health and other issues as requested;
-- Testify to legislative committees as requested;
-- Serve as a liaison to livestock and poultry organizations and leaders; and
-- Participate on the Board of Directors of the United States Animal Health Association, the National Institute for Animal Agriculture, Southern Animal Health Association, and other animal health organizations.
State law requires that the successful candidate be a licensed veterinarian with at least five (5) years of experience in the practice of veterinary medicine. Preference may be given to candidates with regulatory experience in the management of animal health programs, epidemiology, emergency management/response, foreign animal disease investigations, and animal welfare regulations.
Applicants must submit a resume, cover letter, and three references to:
Mark White
Director, Division of Human Resources
Kentucky Department of Agriculture
107 Corporate Drive
Frankfort, KY 40601
Mark.White@ky.gov