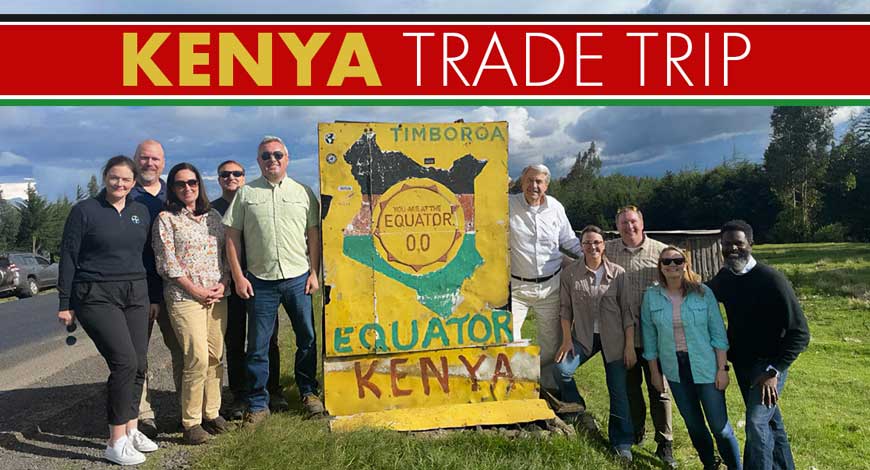 Agriculture Commissioner participates in trade mission trip to Kenya
Focus of USDA trade trip was biotechnology in African country
FRANKFORT (Nov. 17, 2023) - A recent trip to Kenya could open up more agricultural trade opportunities for Kentucky and the United States, according to Kentucky Commissioner of Agriculture Dr. Ryan Quarles.
Quarles represented Kentucky on the November trade mission to explore global emerging markets through the U.S. Department of Agriculture's (USDA) Emerging Markets Program.
"The Kenyan government was very inviting to our group," Commissioner Quarles said. "I was pleased to represent Kentucky and the United States on this important mission to expand our exports into Kenya and other African countries. Other countries have been aggressive in their trade with Kenya, so we need to be part of the conversation as well. In addition, we need to make sure Kentucky has a seat at the table."
Quarles was joined on the trip by Ted McKinney, the Chief Executive Officer for the National Association of State Departments of Agriculture (NASDA) and the former USDA's undersecretary of agriculture for trade and foreign agricultural affairs, other state agriculture commissioners, and agriculture industry representatives. At the invitation of the Kenya government, the U.S. delegation visited in an effort to enhance bi-lateral relations for trade between the leading Africa country and U.S. agriculture.
The trip focused on the potential rollout of biotechnology in Kenya, and how state departments of agriculture can assist through sharing information, past learnings, and more to enable Kenyan producers and industry to meet productivity goals.
"Kenya is a regional leader in East Africa," Quarles said. "Progress made in Kenya is expected to follow in other countries."
Kenya remains East Africa's largest and most important business, financial, and transportation hub, with 80 percent of East Africa's trade flowing through Mombasa Port. The United States is a top three destination for Kenya's exports and the seventh largest source of its imports. The U.S.-Kenyan strategic trade and investment partnership is an important pillar of the U.S.-Kenya relationship.
Kenya is a net importer from the United States, but that trade deficit narrowed significantly between 2015 and 2019, from -$872 million to -$83 million. Trade missions, like the one Quarles recently participated in, are seeking to increase trade exports to Kenya. With more than half of all Kenyans raising livestock or being in some type of agricultural pursuit, agriculture is an expandable market.
While on the mission, Quarles and the team visited research farms, an agricultural-based university, and a textile factory, along with facilities dealing with agricultural genetics. The group met with members of Kenyan President William Ruto's Cabinet, Kenyan agriculture representatives that would be equivalent to the U.S. counterparts at the USDA and Federal Drug Administration, and U.S. Ambassador Meg Whitman.
While in Kenya, Quarles found Kentucky, was more familiar to the Kenyan residents than other states, particular because of the popularity of Kentucky Fried Chicken restaurants.
"It appears to be the most popular quick serve restaurant in the region," Quarles said. "It was a point of humor but also served as a way to start productive conversations."
In addition to its popular food, Kentucky Fried Chicken, as a Fortune 500 company, is supportive of agricultural efforts in Kenya including poultry genetics. Quarles said Kenya's president is favorable to advances in biotech technology and Kentucky may find a foothold there in increasing exports to the country.
"It's just another way we are leading change in international trade," he said. "It's important to make sure Kentucky isn't left behind."