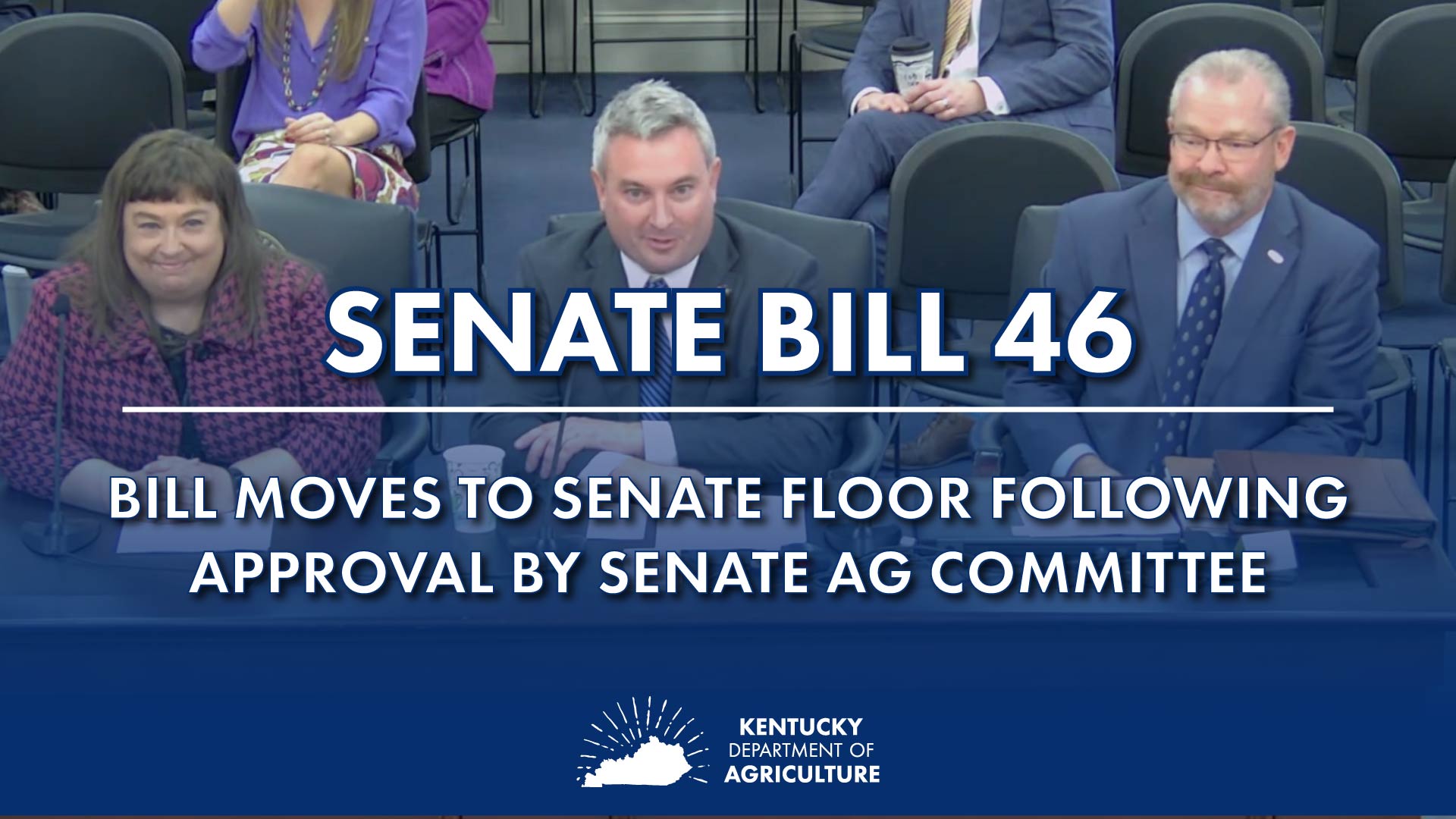 Bill to add new division to State Vet's office passes first step today
Division would focus on emergency preparedness, response
FRANKFORT (Feb. 21, 2023) – A bill to add a new division within the Kentucky Department of Agriculture's (KDA) Office of the State Veterinarian to enhance the department's preparedness and response to animal emergencies was approved in the Senate Ag Committee today, Commissioner of Agriculture Dr. Ryan Quarles announced.
"Protecting the health of livestock and poultry in the commonwealth is a top priority of the Kentucky Department of Agriculture and the Office of the State Veterinarian," Commissioner Quarles said. "That protection means being ready for an emergency. The changes that will come about with Senate Bill 46 will go a long way in helping us achieve this goal."
The need for Senate Bill 46 (SB46) was first introduced in November when Commissioner Quarles, KDA Chief of Staff Keith Rogers, and State Veterinarian Dr. Katie Flynn testified before the Interim Joint Committee on Agriculture. After passage today, the bill now goes to the full Senate floor for passage.
In addition to creating the Division of Emergency Preparedness and Response to the State Vet office, SB46 renames two current divisions including the Division of Animal Health to the Division of Regulatory Field Services and the Division of Producer Services to the Division of Animal Health Programs. The changes address the top three deficiencies the Office of the State Veterinarian (OSV) identified during the last year: emergency programs, policy and regulations, and outreach and education.
OSV is currently made up of 35 positions, led by the state veterinarian and deputy state vet. Most of the jobs, 25, are in Animal Health. The remaining 10 staff are in the Producer Services division. SB46 would provide for increased staff and resources, allowing OSV to be better positioned for its principal role in protecting Kentucky's animal agriculture.
OSV's need for more staff has been put on critical display in the last 18 months as the office dealt with several animal disease and natural disaster occurrences, including a Chronic Wasting Disease case in a deer near the Tennessee border, which initiated required surveillance throughout several counties in Kentucky; devastating tornadoes that impacted agriculture across Western Kentucky; several outbreaks of Highly Pathogenic Avian Influenza, a deadly virus for domesticated poultry; and widespread flooding in Eastern Kentucky.
SB46 would allow the state vet's office to be in a better position to defend the state's agriculture livestock against disease and nature disasters, while at the same time completing the other tasks that maintain the health of the state's herds and flocks.