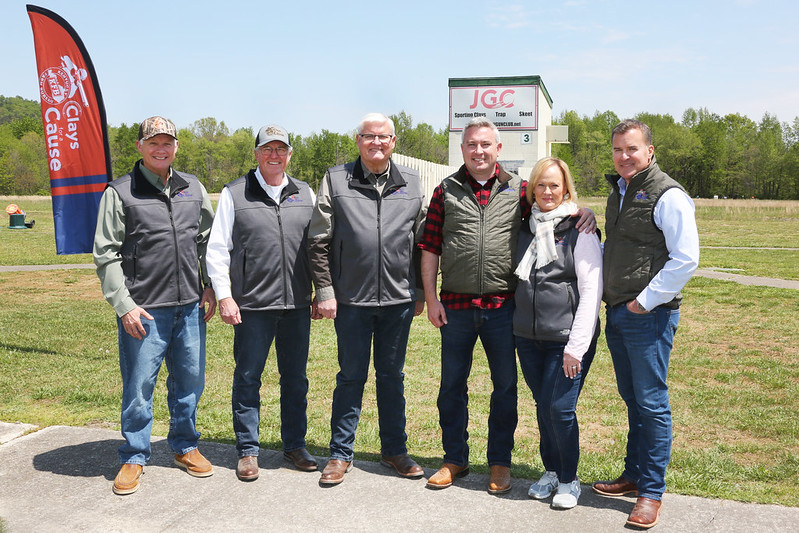 From left, Kentucky Farm Bureau (KFB) Federation Executive Vice President, Drew Graham, KFB 1st Vice President, Eddie Melton, KFB President, Mark Haney, Commissioner of Agriculture, Ryan Quarles, KFB 2nd Vice President, Sharon Furches, and KFB Insurance Executive Vice President & CEO, John Sparrow, led the event's fundraising efforts in the battle against hunger during Kentucky Farm Bureau Insurance's fifth annual Clays for a Cause at Jefferson Gun Club in Brooks, Ky., on April 25. For more pictures from the event, click here. (Kentucky Farm Bureau Insurance)
Clays for a Cause raises more than $270,000 for Kentucky Hunger Initiative
Kentucky Farm Bureau Insurance pulls together event each year
LOUISVILLE (April 27, 2023) – On Tuesday, April 25, Kentucky Farm Bureau Insurance hosted its fifth annual Clays for a Cause fundraising event, bringing in more than $270,000 in charitable donations to help fight hunger and food insecurity in Kentucky. In just five years, this event has already raised nearly $1.35 million in charitable donations.

The sold-out sporting clays event, held at Jefferson Gun Club in Brooks, Ky., was attended by 360 participants and supported by 35 sponsoring companies. Because Kentucky Farm Bureau Insurance underwrites 100% of the expenses to produce this event, every dollar raised from sponsorships, participant fees and donations is given directly to the selected charity or cause. This year, all proceeds were again designated to support local hunger relief efforts through the Department of Agriculture's Kentucky Hunger Initiative.

"We launched Clays for a Cause a few years ago as a way to rally our friends and partners in the business community towards the common goal of helping Kentuckians in need," explained John Sparrow, Executive Vice President and CEO of Kentucky Farm Bureau Insurance. "It's been amazing to see the event grow so rapidly, but the true blessing is knowing that its success means we're helping deliver much needed nutrition to thousands who seek assistance providing it for their families."

Clays for a Cause was first held in April 2019 and has grown in both size and contributions each year since then. This year's $270,155 donation given through the Kentucky Hunger Initiative will again be divided among three local non-profits – Feeding Kentucky, Glean Kentucky, and Kentucky Hunters for the Hungry.

"Kentucky Farm Bureau has been a wonderful advocate for Kentucky's food insecure," Kentucky Commissioner of Agriculture Dr. Ryan Quarles said. "The amount of money raised through Clays for a Cause the last five years has been tremendous. The support Farm Bureau has shown to the Kentucky non-profit organizations that fight hunger is exactly the type of advocacy I had in mind when I began the Hunger Initiative at the beginning of my administration as Agriculture Commissioner. I'm beyond impressed at what Farm Bureau and other participants have been able to do during this event."

The Kentucky Hunger Initiative was launched in 2016 to bring together farmers, charitable organizations, faith groups, community leaders, and government entities to look for ways to reduce hunger in Kentucky. The non-profit organizations receiving a share of the proceeds from this year's fundraiser continue to share the sentiment that this mission is being accomplished through events like Kentucky Farm Bureau Insurance's Clays for a Cause.

"We are so grateful for Kentucky Farm Bureau Insurance and their commitment to our neighbors facing hunger," said Jamie Sizemore, Board Chair of Feeding Kentucky. "One in seven of our neighbors in Kentucky are food insecure so partnerships like this are so important to our common mission of ending hunger."

"The generosity and continued support of sponsors like Kentucky Farm Bureau has awarded our program the opportunity to expand our services to additional communities and groups in need. These opportunities have resulted in record growth of the program and exciting new pilot programs to expand our outreach and impact," added Roger LaPointe, Executive Director of Kentucky Hunters for the Hungry. "We are grateful for our generous sponsors and the sportsmen and sportswomen who help us continue our mission to alleviate hunger in the Commonwealth."

"The investment that Kentucky Farm Bureau has made into Glean Kentucky over the last several years has been transformative for our organization," Ben Southworth, Executive Director of Glean Kentucky, concluded. "This support has allowed us to expand the impact of our work from being totally focused in Central Kentucky to now having second and third regions of service, centered in Warren County and Oldham County, respectively. All this means that we're able to rescue more fresh produce and help more of our neighbors throughout the Commonwealth facing food insecurity."

Clays for a Cause will be held again on April 23, 2024. For more information about the event, visit https://www.kyfb.com/insurance/clays-for-a-cause/.