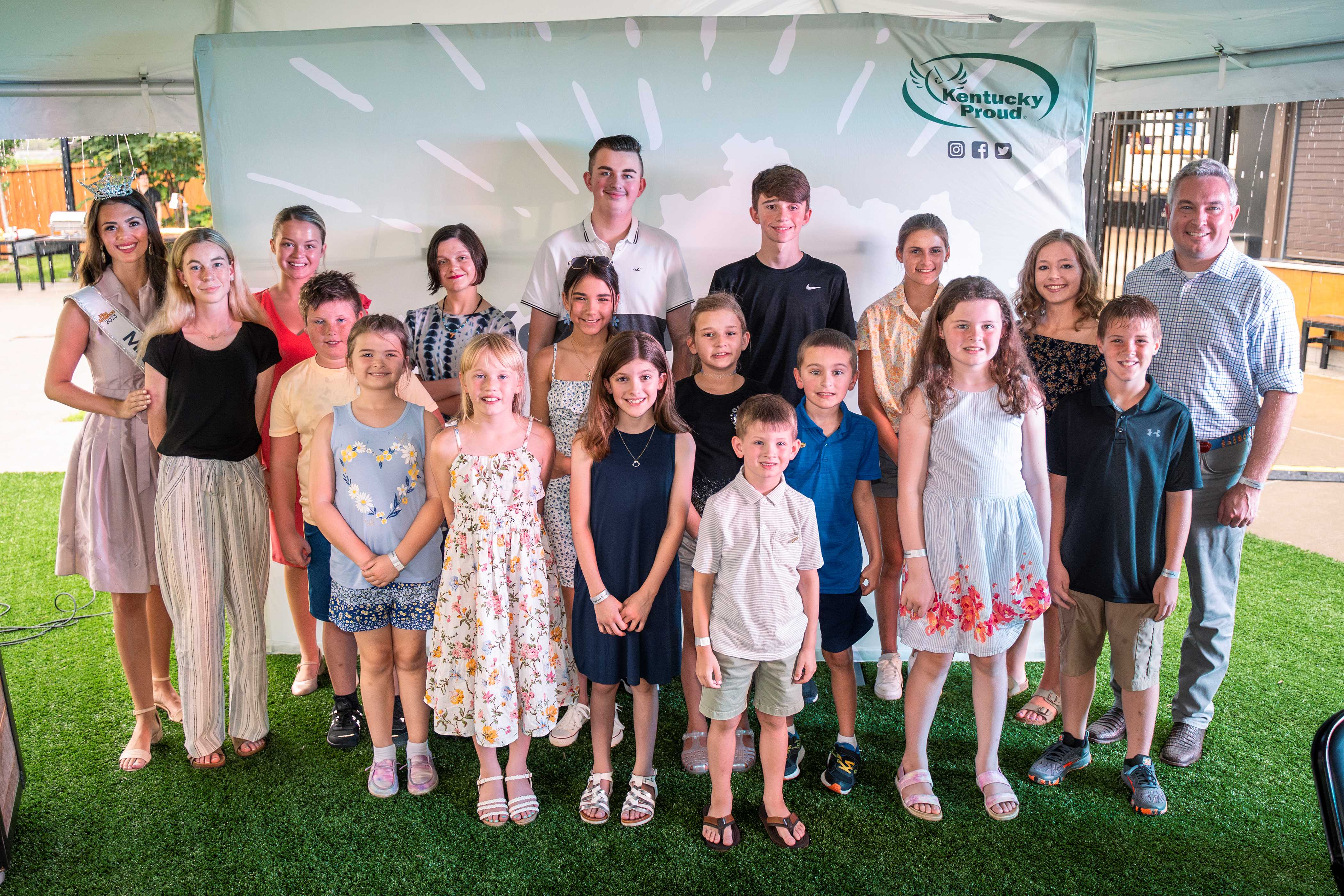 Agriculture Commissioner Dr. Ryan Quarles announced the winners of the Kentucky Department of Agriculture's annual Poster and Essay Contest during an awards ceremony Saturday at Lynn Family Stadium in Louisville. The theme of the contest, "Kentucky Agriculture is Everywhere," reflected on the important role agriculture has in our world. Pictured with the winners are, 2023 Miss Kentucky Mallory Hudson, on the far left, and Commissioner Quarles, at right. For more photos of the event, click here. (Kentucky Department of Agriculture)
Commissioner Quarles announces winners of 2023 KDA Poster and Essay Contest
Theme of 'Kentucky Agriculture is Everywhere' reflects on agriculture's importance to the world
FRANKFORT (July 10, 2023) – The winners of the Kentucky Department of Agriculture's annual Poster and Essay Contest were announced during an awards ceremony Saturday at Lynn Family Stadium in Louisville. The theme of the contest, "Kentucky Agriculture is Everywhere," reflected on the important role agriculture has in our world.
"The artwork and essays from students across our beautiful state displayed in vivid writing and artistic skill how important agriculture is to nearly everything in our world," Commissioner of Agriculture Dr. Ryan Quarles said. "Congratulations to each of these winners who so vividly depicted the importance of agriculture. We owe our farmers a lot of gratitude and these pieces of art are just a small show of appreciation for those who have chosen to work in the soil and provide for those around them."
The KDA received 557 entries, including 506 posters. Each winning entry received a $100 award from Kentucky Agriculture and Environment in the Classroom and will be displayed at the 2023 Kentucky State Fair in August in Louisville.
The digital winners, which includes photos or original digital artwork, are seventh-grader Sylvia Mason of Noe Middle School, and 10th-grader Jesse McClain of Washington County High School.
Poster winners are:
-- Kindergarten: Ellie Roberts, Wheler Elementary School
-- First grade: Landon Staples, Hiseville Elementary School
-- Second grade: Riley Mullins, Wheeler Elementary School
-- Third grade: Siabhe Wortham, St. Mary School
-- Fourth grade: Madison Tompkins, Tompkins Academy (Homeschool)
-- Fifth grade: Kennedy Burke, Kelly Elementary School
-- Sixth grade: Bella Kinsella, Capital Day School
-- Seventh grade: Ellie Ice, West Hardin Middle School
-- Eighth grade: Blakley Beth Callahan, South Laurel Middle School
-- Ninth grade: Isabella Day, LaRue County High School
-- 10th grade: Lauren Seebold, Spencer County High School
--11thgrade: Emily Shaw, Metcalfe County Senior High School
-- 12th grade: Aleigha Wilson, Metcalfe County Senior High School
Essay winners are:
-- First grade: Issac McKemy, McKemy Academy
-- Second grade: Ruby McCoy, Southern Elementary School
-- Third grade: Ashleigh McDonald, Waco Elementary School
-- Fourth grade: Charlie Aube, St. Mary School
-- Fifth grade: Lane Hardesty, Meade County
-- Ninth grade (tie): Brady Riddle, Spencer County High School
-- Ninth grade (tie): Carli Owens, Spencer County High School
-- 10th grade: Christina England, Metcalfe County High School
-- 11th grade: Brady Waldridge, Spencer County High School