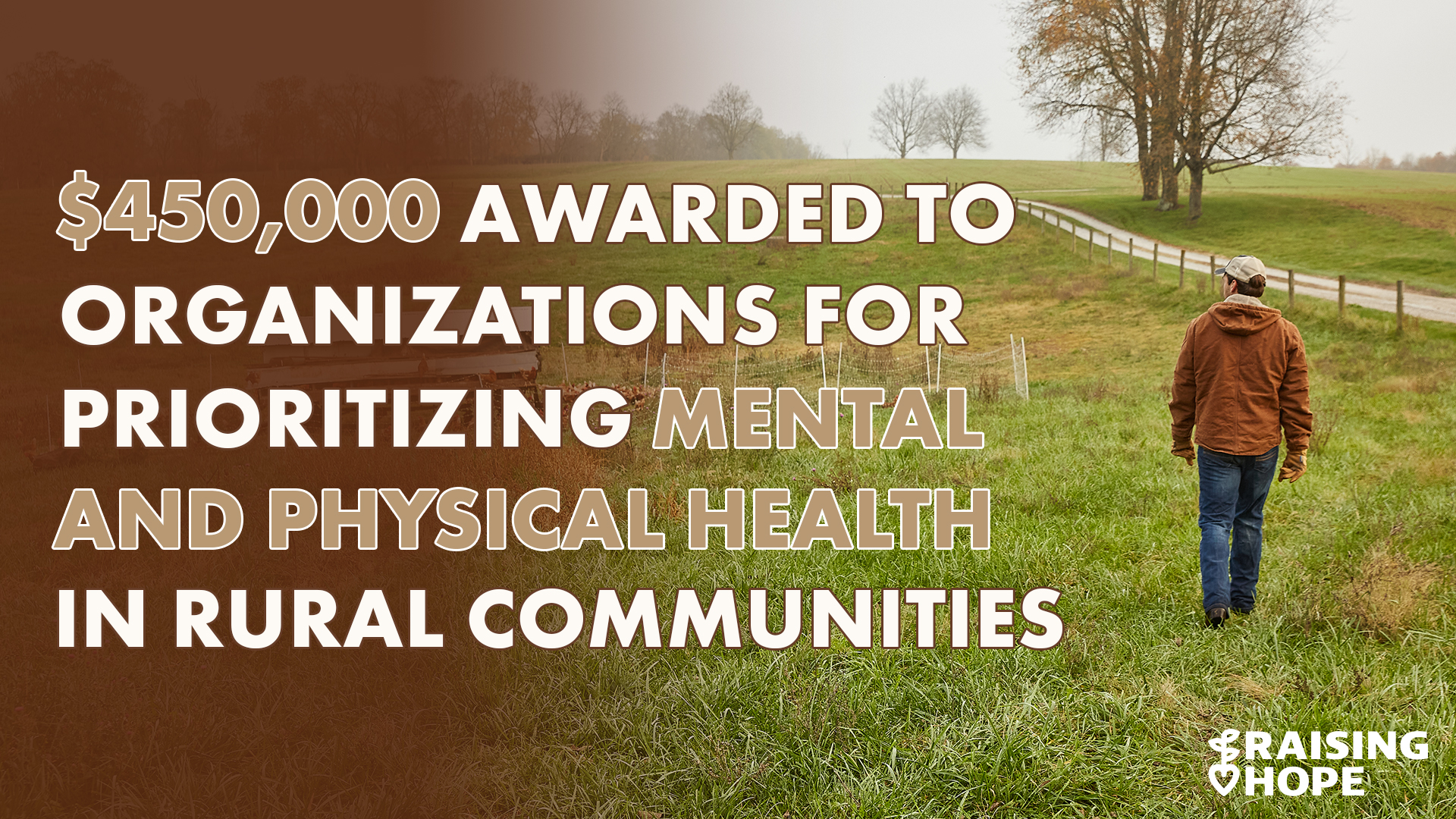 Kentucky Department of Agricultural announces Raising Hope KY grant-funded projects
Awards total $450,000
FRANKFORT (Aug. 9, 2023) – Awards aimed at promoting the mental health of Kentucky farmers have been given out through the Raising Hope Kentucky initiative, Commissioner of Agriculture Dr. Ryan Quarles announced.
"Farming is an inherently stressful occupation, and well-being includes mental and physical aspects," Commissioner Quarles said. "The Raising Hope Kentucky initiative continues to provide farmers with information about mental health resources and destigmatize mental health issues. The awards given out help continue that progress toward mental health awareness for our farming community."
The funds for the awards, which totaled $450,000, came from state legislature appropriations aimed to promote the mental well-being of Kentucky farmers.
Award recipients include:
-- The University of Kentucky to expand Mental Health First Aid (MHFA) training to agricultural-centric populations, teaching participants to identify, understand, and respond to signs and symptoms of mental health and substance use challenges.
-- Vimarc, a full-service marketing and advertising agency, to create a marketing campaign to raise awareness of mental health issues in rural Kentucky, including print, digital, and event marketing.
-- Western Kentucky University for select events to provide health screenings and education.
-- Pennyroyal Community Mental Health Center for funding to continue to support the National Suicide Hotline serving farmers in Kentucky.
-- The University of Kentucky's Southeast Center for Agricultural Health and Injury Prevention for a youth rural resilience program to promote health and safety at Kentucky farms.
Raising Hope is a grant-funded initiative supported by appropriations from the Kentucky General Assembly. This initiative is a partnership with the Kentucky Department of Agriculture, the University of Kentucky Southeast Center for Agricultural Health and Injury Prevention, Western Kentucky University, Pennyroyal Center, the Kentucky Department for Public Health, the Kentucky Injury Prevention and Research Center, and the Kentucky Department of Behavioral Health, Developmental, and Intellectual Disabilities.
The mission of the Raising Hope coalition is to promote the physical and mental health and safety of Kentucky's farmers and farm families through translational research, preventions and interventions, and community education and outreach informed by key stakeholders, with the common goal of enhancing the quality of life for our farmers and farm families. Visit
raisinghopeky.com
to find mental health resources.