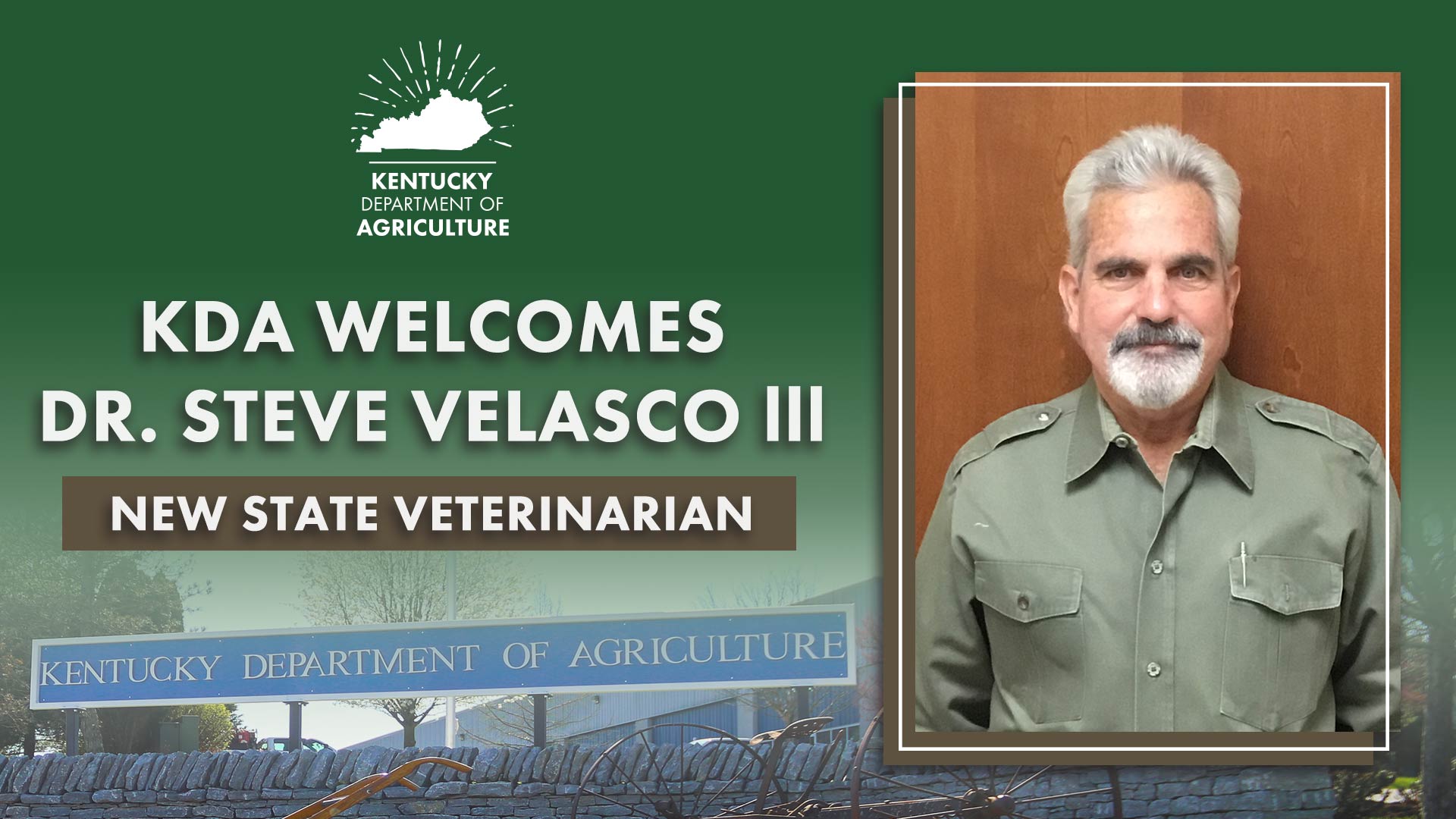 New state veterinarian named
Dr. Steve Velasco III will join KDA mid-June
FRANKFORT (May 9, 2023) – The Kentucky State Board of Agriculture (SBOA) unanimously selected Dr. Steve Velasco III to serve as the new State Veterinarian at the Kentucky Department of Agriculture (KDA).
"The role of Kentucky State Veterinarian is a critical one for the health of our agricultural animals across the state and the public at large," said Agriculture Commissioner Dr. Ryan Quarles, who serves as SBOA chairman. "Dr. Velasco's vast experience sets him up to fulfill this task with great professionalism and skills. The Board has done a wonderful job in searching for the best candidate for this important position. We are excited for him to join our team and look forward to his contributions for the betterment of our agricultural sector."
The State Veterinarian is an agent of the State Board of Agriculture and leads the KDA's Office of State Veterinarian in its statutory and regulatory activities to prevent, control, and eradicate communicable diseases in the agricultural animal health sector.
Specific duties of the State Veterinarian include:
-- Serve as the Executive Director of the Office of State Veterinarian;
-- Oversee all functions of the Office of State Veterinarian;
-- Ensure statutes and regulations are enforced;
-- Participate on the Commissioner of Agriculture's executive team;
-- Advise the Commissioner on issues involving animal health and other issues as requested;
-- Testify to legislative committees as requested;
-- Serve as a liaison to livestock and poultry organizations and leaders; and
-- Represent Kentucky with the United States Animal Health Association, the National Institute for Animal Agriculture, Southern Animal Health Association, and other animal health organizations.
A search committee established by the board recommended Dr. Velasco, of Corpus Christi, Texas, to the State Board of Agriculture. Dr. Velasco replaces Dr. Katie Flynn, who announced her resignation from the department in February.
"I'm excited to join the Kentucky Department of Agriculture, taking on the role as state veterinarian," Dr. Velasco said. "My career has been focused on being an advocate for animal health and public awareness. I look forward to continuing that path as I join the dedicated and professional team at KDA and work with the wonderful animal industry throughout Kentucky."
Dr. Velasco has served as a region director at the Texas Animal Health Commission, since 2020. In this role, he managed and directed regulatory programs, along with full time field and office staff. The role also required him to perform field work, as necessary; manage regional emergency disaster requirements; and perform outreach and educational programs for producers and the public, among other duties.
Dr. Velasco, born and raised in San Antonio, Texas, grew up participating in 4-H horsemanship and competing in high school rodeo. Upon graduation, Dr. Velasco attended The University of Texas at San Antonio where he received a Bachelor of Science degree in Chemistry followed by a Master of Business Administration from The University of Texas at Austin. He later attended Texas A&M University where he received a Bachelor of Science in Veterinary Science and a Doctor of Veterinary Medicine with an emphasis in large animals.
Dr. Velasco spent the first six years of his career as a racetrack veterinarian in Louisiana and Arkansas. In 2000, Dr. Velasco returned to South Texas where he spent the next 20 years at a large animal ambulatory practice, while also working in the equine sports medicine and stocker cattle industries, supporting 4-H and FFA programs, and providing veterinary services for wildlife.
Dr. Velasco has veterinary licenses in Texas, Arkansas, Louisiana, and Kentucky. He is expected to join KDA in mid-June.