Kummer's 'Pet' Project Could Be the Next Big Superfood
Heartland Chia in Simpson County is the Largest Chia Farm in North America
By Chris Aldridge, Kentucky Agricultural News
FRANKLIN, Ky. (Sept. 28, 2018) — When extolling the virtues of Kentucky agriculture, one of the things Agriculture Commissioner Ryan Quarles repeats often is that Kentucky is home to the largest chia farm in North America.
Quarles could add that the only commercial chia seed grown in the nation is Kentucky Proud.

Americans were first exposed to chia a few decades ago through Chia Pets. When a paste of chia seeds is spread over a clay figure of an animal and water was added, the critter sprouts green "fur."

"About 10 years ago, chia went from a fad to a trend," said Chris Kummer, who grows 150 to 200 acres of chia, an herb officially known as Salvia hispanica, in Simpson County in south-central Kentucky. The word "chia" derives from the Nahuatl word "chian," which means oily.

A recent publication from the Mayo Clinic declared that chia is one of the few foods truly deserving of the label "superfood" because it delivers a massive amount of nutrients with very few calories.
"It's the highest plant-based source of Omega-3 [fatty acids]," said Kummer, noting that the U.S. Food and Drug Administration reported that Omega-3s may reduce the risk of heart disease. "It's also a complete source of protein."

Kummer sells 12-ounce bags of his Kentucky Proud chia seeds under the Heartland Chia brand at Rainbow Blossom Natural Foods' four stores in the Louisville area, Good Foods Market & Café in Lexington, and Beet Box Produce in Bowling Green. Talks are underway with Kroger and Whole Foods to carry the product.

"Most of what we sell is wholesale to food manufacturers that use chia in their products," Kummer said. "A lot of them are on the West Coast."

Chia is native to central and southern Mexico and Guatemala. "It was one of the main foods of the Aztecs," Kummer said of the ancient empire that dominated the region.

The University of Kentucky got involved in order to offer an alternative crop for Kentucky farmers. Professors David Hildebrand and Tim Phillips in the UK Department of Plant & Soil Sciences bred new types of non-GMO (genetically modified), early-flowering chia that thrive in Kentucky's cooler climate.

Kummer, a 1990 graduate of the UK College of Agriculture, Food and Environment (CAFE), got involved because of his friendship with Hildebrand. Kummer said he's "seeing some of our best corn crops" when rotating chia and corn.

"Chia is truly a sustainable crop," he said. "It only uses about 25 percent of the water and fertilizer that traditional row crops use. We have seen no insect problems because it's in the mint family like sage and basil. It grows well no-till, and the USDA [U.S. Department of Agriculture] is working on it as a crop to restore soil health.

"I tell people it's the sexiest crop I've ever seen," Kummer added. "It checks all the boxes for sustainability."

CAFE published a report in 2012 expressing optimism about chia's potential in Kentucky. It estimated that the state's farmers could sell 4,000 to 5,000 acres of seeds to the health food and nutritional supplement industries two to four years after commercial production begins.

Kummer has been working with UK to spread the good word about chia to 17 other states through research trials.

"Our goal is to see this become a great opportunity for a lot of farmers," Kummer said, noting worldwide chia sales are projected to exceed $2 billion by 2020. "There's a big market there. You don't have to invent something, just participate in it.

"For Kentucky farmers, I hope growing chia can become part of their mix, along with hemp and other new crops."

It took several years before Kummer learned how to grow chia after "a rough start" in 2011.

"That first year, we had 3 acres and killed most of it," he said. "It is not hard to grow, but I would describe it as fickle.

"When it needs something done, you can't wait. It's not tolerant to sit out there for two weeks while you wait to harvest. You'll lose a lot of your seed."

Kummer is hoping other Kentucky farmers join him in the chia business. His start-up company, Heartland Chia, is doing well as it approaches its three-year anniversary in November.

"We didn't start this company to stay small," Kummer said. "We want to blow this thing up to help other farmers, food manufacturers, and ultimately consumers with better food choices."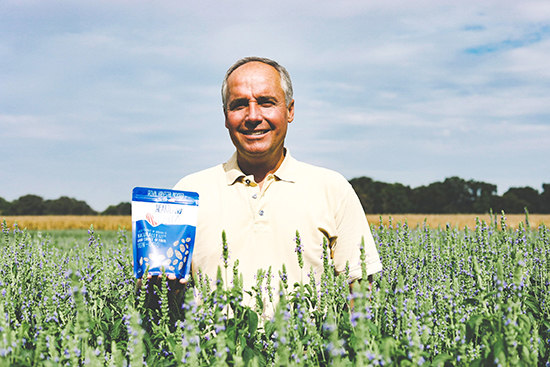 Chris Kummer with a bag of his retail Heartland Chia product.