Census Maps Kentucky Agricultural Trends
2017 Count Shows Strong Presence of Family Farms
This is the last in a series of five stories taking a closer look at Kentucky statistics from the 2017 Census of Agriculture.
LOUISVILLE (July 1, 2019) — Did you know that more than 97 percent of all Kentucky farms are family or individually owned? Or that cropland acres in Kentucky rebounded in 2017 after decades of decline? Or that Kentucky made gains in conservation tillage, sales of organic products, and use of renewable energy from 2012 to 2017?
These are just a few of the hundreds of bits of data about Kentucky's agriculture industry contained in the 2017 Census of Agriculture.
"The ag census reflects dozens of factors that affect individual farmers while at the same time producing a mosaic of Kentucky's agricultural landscape," Agriculture Commissioner Ryan Quarles said. "This data helps us recognize trends and also see challenges that might be around the corner. We are deeply grateful to all the Kentucky farmers who participated in the ag census."
Here are a few more noteworthy facts from the ag census:
• More than a third of Kentucky's farmers – 45,545 – listed farming as their primary occupation.
• In 2017, 72.4 percent of Kentucky farms had internet access, compared to the national average of 75 percent.
• The value of farm land and buildings in Kentucky totaled $48.8 billion in 2017, a 23.8 percent increase over 2012.
• The value of farm machinery and equipment was estimated at $6.3 billion, up 16.2 percent over 2012.
• Total income from sales of farm byproducts and other sales and services related to the farm business were $418.8 million. This includes income from agritourism, state and local government payments, crop insurance payments, custom work, gross cash rent or share payments, tobacco quota buyouts, and some forest products.
• Sales of floriculture and bedding crops produced in the Commonwealth totaled more than $51 million in 2017. Sales of nursery crops were another $17 million, and sales of greenhouse vegetables and fresh-cut herbs came to nearly $4.3 million.
• Kentucky growers produced vegetables with a market value of $33.6 million in 2017, a 16.6 percent increase over 2012. Vegetable growers harvested 8,962 acres, a 19.9 percent increase over the previous census; more than 95 percent of those acres were harvested for the fresh market.
• The number of Kentucky farms with renewable energy systems totaled 3,512, nearly triple the number in 2012.
• The value of food sold from Kentucky producers that was sold directly to consumers came to $28.8 million in 2017.
• Agritourism generated an estimated $17 million in income on 651 Kentucky farms in 2017.
• Kentucky had 184 organic farms, a 114 percent increase over 2012, with sales estimated at $14 million, more than triple the total from the previous census.
• Sales of fruits, tree nuts, and berries from Kentucky farms totaled nearly $8 million, 1.5 percent more than in 2012.
• Kentucky had 15,659 bee colonies as of Dec. 31, 2017, and sold $1.15 million worth of honey that year.
• The costs of commercial fertilizer, lime, and soil conditioners purchased by Kentucky farmers were $413.2 million, down 12.5 percent.
• Chemical expenses for Kentucky farmers rose 23.8 percent to $221.6 million even as the number of farms purchasing chemicals decreased 11.5 percent to 25,878.
• Kentucky farmers used no-till methods on 2.4 million acres (up 3.9 percent) and reduced tillage on another 669,980 acres (up 16.8 percent).
• Kentucky farmers grew cover crops on 417,284 acres in 2017, a 17.9 percent increase over 2012.
The Census of Agriculture provides a detailed picture of U.S. farms and ranches every five years. It is the leading source of uniform, comprehensive agricultural data for every state and county or county equivalent. Census of agriculture data are routinely used by agriculture organizations, businesses, state departments of agriculture, elected representatives and legislative bodies at all levels of government, public and private sector analysts, the news media, and colleges and universities. To find out more about the Census of Agriculture, go to nass.usda.gov/AgCensus.
The NASS Kentucky field office is operated in cooperation with the Kentucky Department of Agriculture.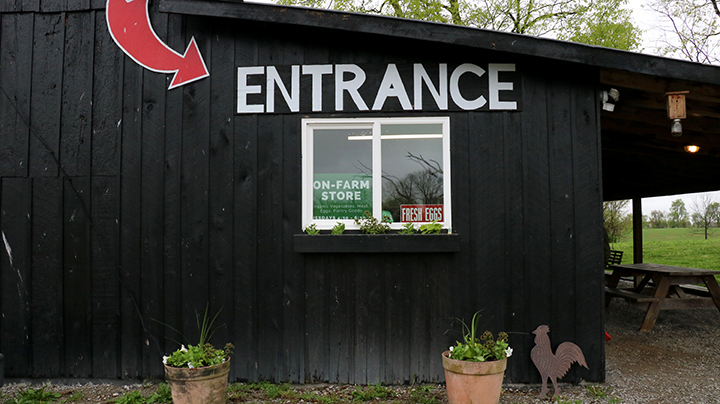 The farm store at Elmwood Stock Farm in Georgetown in April. Elmwood was one of 184 organic farms in Kentucky in 2017. (Kentucky Department of Agriculture photo)