School Uses Chickens to Teach Kids About Food
RICHMOND, Ky. (April 30, 2019) — Scott Anderson, food services director for Madison County Schools, is on a mission to teach today's students the origin of the foods they are eating.
Two of three kindergarten students informally surveyed recently at Boonesborough Elementary School said they thought chicken came from a store rather than a farm.

"We had a middle school student who was surprised that chickens actually had bones when we served some bone-in chicken," Anderson said. "They're all used to the chicken nuggets.

"The idea is to show kids where food comes from, where their chicken comes from," he added. "It's very important as we get generations away from students living on farms that we teach kids how food is raised and how we get food and how we do it naturally."

Anderson's words went into action early this year when curious students in Tori Golden's kindergarten class at Boonesborough Elementary asked about raising chickens. A local 4-H Club donated eggs and placed them in an incubator in the classroom so the kids could watch the baby chicks hatch.

"It was all the kids' idea," Golden told WLEX-TV. "They've been so excited to hold them and feed them."

"They were scared when they were babies," kindergarten student Felicity Hammiel remembered. "They were really cute.

"[Now] we feed 'em grass…. It's really fun. They 'bark' at me like, 'Baaark!'"

"We go to feed 'em, and it just feels good to do it," kindergarten student Max Walters said.

When the 13 chicks outgrew the incubator, they needed a place to live. So Anderson bought a chicken coop kit from Southern States Farm Store, which he and a group of volunteers, including some students, assembled in less than an hour. A permanent fence and gate protect the new coop on a patch of greenspace behind the new school, which opened last fall.

When they return to school this fall, Boonesborough students and staff will begin enjoying fresh eggs for breakfast harvested from their own coop.

"We're going to come up with some contests on how we're going to use the eggs, what should we make," Anderson said. "Obviously, we're not going to get enough eggs out of 13 chickens to feed the entire school, but we'll add some eggs to that and do lots of fun, different recipes."

Madison County Schools "are huge in Farm to School," according to Anderson.

"I work very closely with Tina [Garland] and Bill [Wickliffe]," Anderson said, referring to the coordinator of the Kentucky Department of Agriculture's Farm to School program and director of the KDA's Division of Food Distribution, respectively.

"Commissioner [Ryan] Quarles and everybody there at the Kentucky Department of Agriculture are very supportive," he said. "I love the department."

"As a matter of fact, the majority of the food that we eat for the first four months of school – well, almost 100 percent of our fruits and vegetables – come from local farmers," Anderson added. "We store some in freezers during the winter months.

"We would like to have 100 percent come from local farmers. Right now, we're probably at about 85 percent."

Anderson said students tell him they can taste the difference between eating local food and the usual cafeteria fare.

"They'll say, 'How come it doesn't taste as good? How come are the tomatoes not as good?'" when their food isn't sourced locally, Anderson said. "I think eating things that aren't processed is very important for our students. Teaching them how to eat healthy is very important."

Anderson believes the chicken coop is just the beginning of a plan to grow more of the school's food on school grounds.

"It's a school effort," he said. "We're going to have some grow cabinets, and we're going to have some of our different grades grow some of our vegetables and herbs. The entire school is collecting food scraps, so we're going to compost that for some little gardens that we're going to put out here and also [use the scraps to] feed to the chickens."

"The idea is to build on this and to continue to grow and add things each year. And again, it's to teach the kids where our food comes from, how to support local farmers, how to maybe have a small farm in their backyard to eat a little healthier."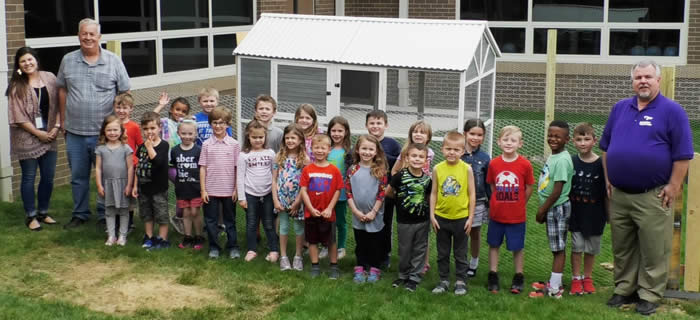 The kindergarten class responsible for the chicken coop behind Boonesborough Elementary School stands in front of the new structure along with, far left: teacher Tori Golden and head custodian Elmer Perkins, who helped build the coop, and, far right, Madison County Schools Food Services Director Scott Anderson. (Kentucky Department of Agriculture photo)