Quarles Secures Donation From Farm Credit Mid-America and CoBank To Expand Mobile Meals Distribution During Coronavirus Pandemic
FRANKFORT, KY (May 27, 2020) – Farm Credit Mid-America (FCMA) and CoBank are funding a significant expansion of mobile meals distribution in high need areas to hungry Kentucky schoolchildren during the coronavirus pandemic, Agriculture Commissioner Dr. Ryan Quarles announced. The donation is a part of the Kentucky Hunger Initiative launched by the commissioner in 2016.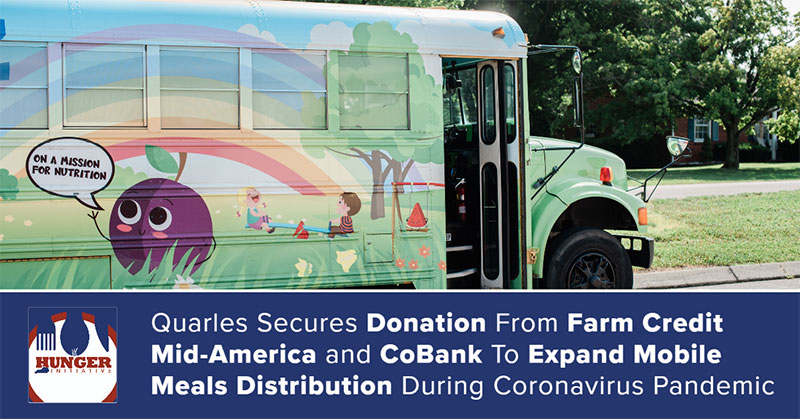 The donation provides enrichment grants to the Kentucky Kids Eat coalition for mobile meals distribution in Butler, Boyd, Clinton, Fayette, Jefferson, Jessamine, Marshall, McCracken, and Letcher counties. The grantees plan to use the funds, or already have used them, to renovate vehicles to distribute meals to Kentucky schoolchildren.
"When we started the Kentucky Hunger Initiative years ago, little did we imagine that the infrastructure we build for reducing hunger would create a framework for helping Kentuckians during a global pandemic," said Commissioner Quarles. "Before the pandemic began, 1 in 5 Kentucky school children were food insecure. The generous donation from Farm Credit Mid-America and CoBank, in a time when so many children are at risk of going hungry, is an incredible act of humanity and kindness. I wish to thank Mark Barker of FCMA and Derrick Waggoner of CoBank for stepping up to help feed hungry kids during this unprecedented time."
"The pandemic has revealed how essential the food bank system is and the importance of reaching people where they are. That's especially true for children in food insecure areas," said Mark Barker, FCMA's senior vice president for agricultural lending in Kentucky. "When Commissioner Quarles approached us about expanding the Kentucky Kids Eat mobile meals distribution, we knew this was a way we could make a difference in our communities."
"CoBank is delighted to once again partner with Commissioner Quarles, the team at Feeding Kentucky, and our colleagues at Farm Credit Mid-America to make a difference for children and families in need," said Derrick Waggoner, regional president for CoBank. "The COVID-19 crisis has intensified food access issues in vulnerable communities. Now, more than ever, it is important that organizations like ours step up to provide support where we can, and we are proud to be a part of this effort."
The government-ordered closure of schools, businesses, and other organizations has led to an estimated 35 percent increase in hunger in Kentucky, according to Feeding America. The state affiliate, Feeding Kentucky, reports Kentucky households with children are more likely to be food insecure.
"Mobile meal sites served an incredibly important purpose prior to the pandemic, and it's safe to say they are now critical to reaching schoolchildren who may otherwise go hungry," said Kate McDonald, KY Kids Eat Coordinator at Feeding Kentucky. "Fewer kids will go hungry during this time because of this partnership between Farm Credit Mid-America, CoBank, and Commissioner Quarles. We are incredibly grateful."
The grantees are:
Boyd County Public Schools;
Butler County Public Schools;
Clinton County Public Schools;
FoodChain in Fayette County;
Jefferson County Public Schools;
Jenkins Independent Schools in Letcher County;
Jessamine County Public Schools;
Marshall County Public Schools; and
Paducah Public Schools in McCracken County
"The face of hunger is different in every community," added Commissioner Quarles. "Hunger isn't a Republican issue or a Democratic issue; it isn't an urban problem or a rural one; it's a Kentucky problem. And if there is anything this pandemic has shown us, it's that Kentuckians know how to come together to solve problems."
In March, Commissioner Quarles wrote a letter to U.S. Secretary of Agriculture Sonny Perdue supporting a waiver request submitted by the Kentucky Department of Education to allow for mobile meal distribution and non-congregate feeding during non-traditional instruction. The U.S. Department of Agriculture approved the request on March 14.
The Kentucky Hunger Initiative was launched four years ago by Commissioner Quarles to bring together farmers, charitable organizations, faith groups, community leaders, and government entities to reduce hunger in Kentucky. Learn more by visiting kyagr.com/hunger.
To view a recording of the virtual announcement on Facebook LIVE, please click here (fast forward to 1:55 mark).
To see examples of the summer feeding sites, please click here.