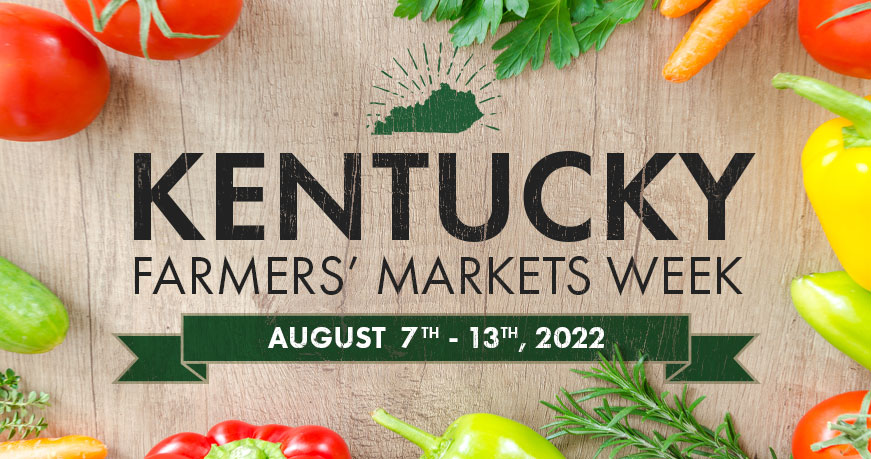 Agriculture Commissioner to celebrate farmers during Kentucky Farmers' Markets Week, Aug. 7-13
Reported sales in farmers' markets for 2021 reached more than $14 million
FRANKFORT (Aug. 4, 2022) -Commissioner of Agriculture Dr. Ryan Quarles is inviting Kentuckians to celebrate Kentucky Farmers' Markets Week by supporting the Kentucky farm families who bring fresh farm products to the public each week.
"Farmers' markets remain a vital resource, providing fresh and nutritious food direct from Kentucky's farms," Commissioner Quarles said. "Consumers want the freshest and healthiest foods available and that's exactly what you can find at any of the farmers' markets throughout Kentucky. If you haven't made it out to a Kentucky Proud® farmers' market near you, this week is a reminder to stop by and see what your agriculture neighbors have to share. You won't be disappointed."
This year's Farmers' Markets Week, Aug. 7-13, salutes the 170 farmers' markets in 112 Kentucky counties. In those 170 markets, more than 3,000 vendors offer products for sale.
Kentucky farmers' markets not only bring consumers the freshest foods available, they also connect the consumer with the farmers who grow and raise their food. Farm-fresh produce, meats, eggs, and much more are available at Kentucky Proud farmers' markets across the commonwealth.
The popularity of farmers' markets continue to grow. Since 1994, the number of farmers' markets in the U.S. has increased from 2,000 to more than 8,600. A recent University of California, Davis study discovered, "for every dollar of sales, direct marketers [Kentucky's farm families] are generating twice as much economic activity within the region." Supporting local businesses also creates jobs where Kentuckians live. And shopping at a local Kentucky Proud farmers' market means food travels fewer miles from the farm to the plate of Kentucky families. According to the USDA, more than half of farmers traveled less than 10 miles to their market. That not only allows consumers to pick their food at the very peak of freshness but also conserves energy and resources in the form of decreased transportation costs and reduced packaging.
With reported sales across Kentucky of more than $14 million last year, farmers' markets are an economic engine that celebrates the state's agricultural roots and brings the farm to Kentucky's consumers.
Kentucky's farmers' markets and their impacts on Kentuckians is a focus of a new Kentucky Proud marketing campaign launched this summer with video and advertising that drive consumers to make direct farm purchases at a registered Kentucky Proud farmers' market.
The campaign will run through Aug. 30. Kentucky Proud has also partnered with social media influencers across the state to highlight the diverse selections and the unique and fun shopping experiences at the Commonwealth's farmers' markets. The campaign was funded by the Kentucky Agricultural Development Fund. All farmers' markets across the state are registered with Kentucky Proud by the Kentucky Department of Agriculture (KDA).
Next week, KDA and Community Farm Alliance (CFA) will have a series of events across the state to celebrate Kentucky Farmers' Markets Week and the Kentucky Double Dollars program.
Kentucky Double Dollars allows low-income Kentuckians on federal SNAP, WIC, and senior nutrition benefits to double up their buying power at 47 participating farmers' markets in the commonwealth. This program is a collective effort of the CFA, Bluegrass Farm to Table, the Kentucky Department of Agriculture, the Kentucky Agricultural Development Fund, Passport Health Plans, and WellCare Health Plans.
Last year, more than 12,000 participants of the Kentucky Double Dollars program redeemed more than $307,000 at farmers' markets, retail locations and fresh stops and community markets across the state.
To find a farmers' market near you, visit kyproud.com/farmers-markets/.