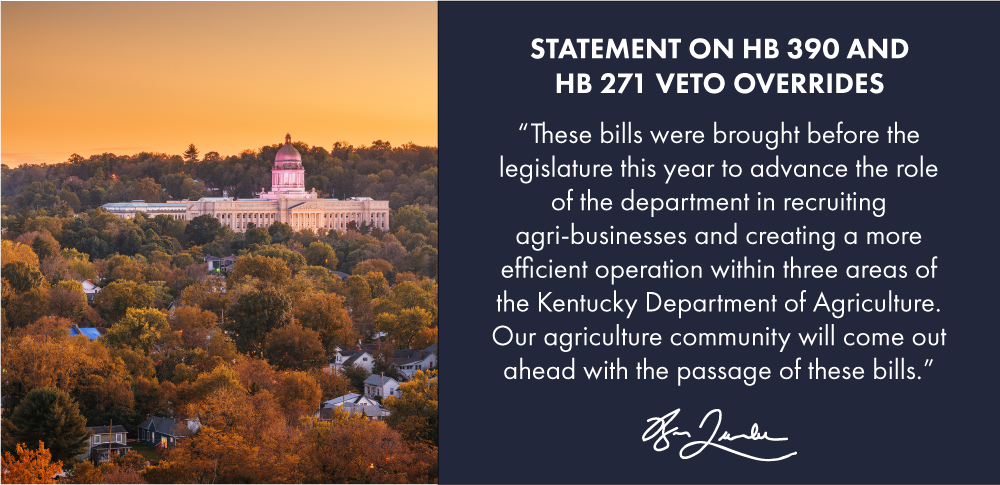 Commissioner Quarles praises General Assembly's veto override of two agriculture-related bills
Bills focus on agri-business, reorganization
FRANKFORT (April 14, 2022) - Kentucky Agriculture Commissioner Dr. Ryan Quarles is applauding the Kentucky General Assembly for overriding Gov. Andrew Beshear's vetoes for House Bills 390 and 271, both regarding agriculture-related issues.
"The General Assembly made the absolute correct decisions with these overrides," Commissioner Quarles said. "These bills were brought before the legislature this year to advance the role of the department in recruiting agri-businesses and creating a more efficient operation within three areas of the Kentucky Department of Agriculture. Our agriculture community will come out ahead with the passage of these bills."
HB 390 specifically directs the Cabinet for Economic Development to give notice to the agriculture commissioner when the cabinet receives information about an agricultural-related economic development opportunity. The notice would allow the department to participate in plans, discussions, and meetings to allow the state full advantage in agriculture-related endeavors. It follows the loss of a meat processing plant that considered locating in Christian County. The bill also adds the Commissioner of Agriculture as a voting member to the Kentucky Economic Development Partnership, changes the quorum from seven to eight, and requires one member of the Kentucky Economic Development Finance Authority to have experience in agriculture.
HB 271 reorganizes the Fair Council and the Agritourism Advisory Council to reflect designees allowed for certain positions in their absences and adjusts the number of seats on the councils. The bill also clarifies the duties for the Office of State Veterinarian are to maintain the health of welfare of agricultural industries for livestock, poultry, and fish.
Both bills had received bipartisan unanimous approval in the House and the Senate before being vetoed by the governor.