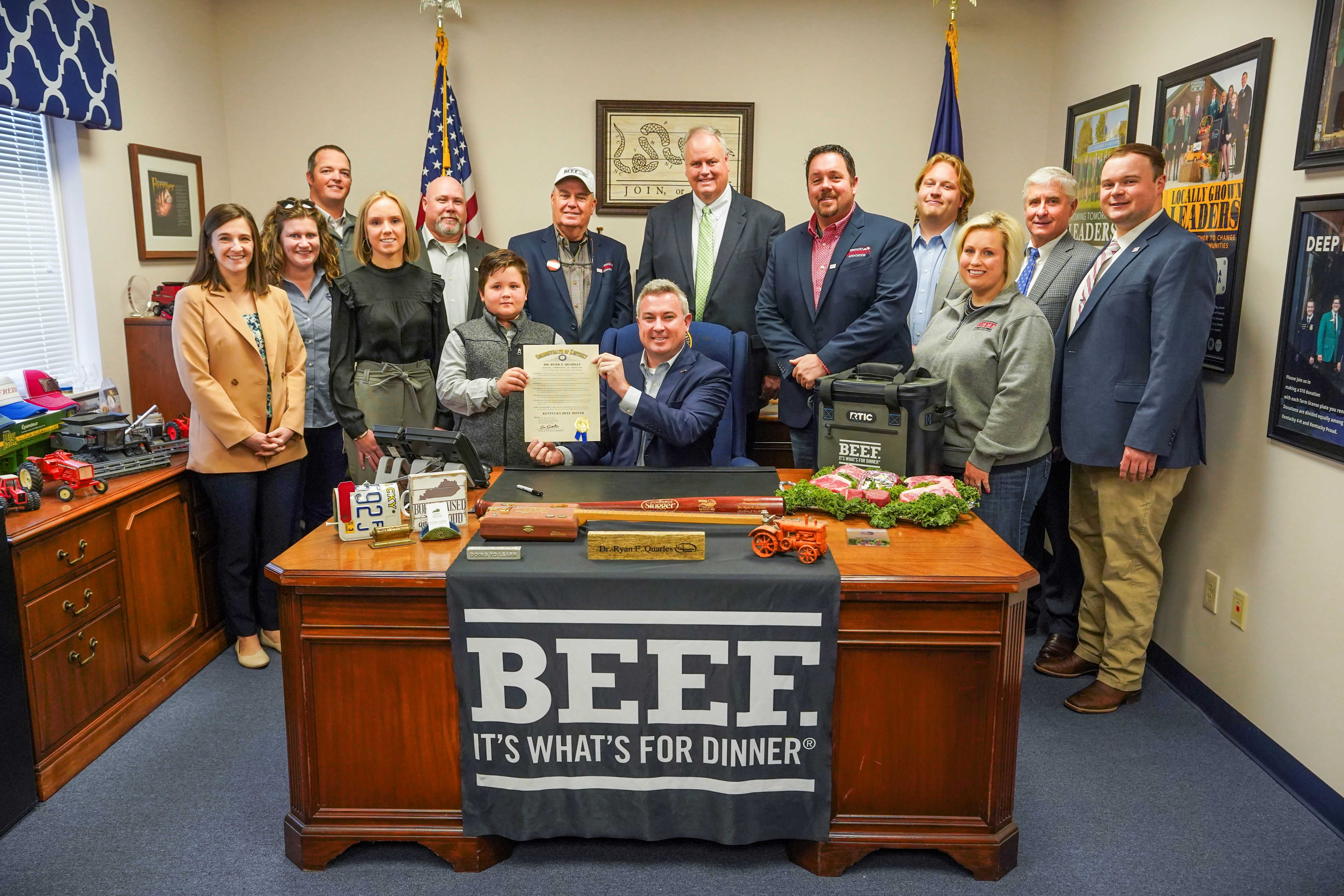 Kentucky Commissioner of Agriculture Dr. Ryan Quarles, seated, displays a proclamation commemorating May as Kentucky Beef Month. Joining Commissioner Quarles at the event were representatives of the Kentucky Beef Council, Kentucky Cattlemen's Association, and the beef industry. For more photos from the event, click here. (Kentucky Department of Agriculture)
Commissioner Quarles, Kentucky cattle producers celebrate May as Beef Month
Proclamation designates this month to celebrate beef industry
FRANKFORT (May 1, 2023) – Kentucky cattle producers and industry representatives joined Kentucky Commissioner of Agriculture Dr. Ryan Quarles Monday as he signed a proclamation commemorating the month of May as Kentucky Beef Month.
"With 895,000 head of beef cattle in the commonwealth, Kentucky remains the state with the largest beef inventory east of the Mississippi River," Commissioner Quarles said. "2022 was a tough year for farmers across our state with high production costs and weather issues that created tornadoes, floods, and droughts, but our beef producers rallied through the issues. I ask that Kentuckians join me in recognizing their effort, hard work, and perseverance as we celebrate May as Kentucky Beef Month."
The United States is the world's largest producer of beef, primarily high-quality, grain-fed beef. Kentucky boasts the eighth largest in the nation. According to the National Agricultural Statistics Service, Kentucky is home to 38,000 beef cattle producers of the 73,500 total farms in the state.
The January 2023 numbers for beef cows are down 4 percent from 2022, due mainly to a combination to widespread drought last year, high production costs, and high cull cow prices. The impacts of combined issues resulted in large decreases in beef cow numbers nationally and on a state level. Despite these issues, the value of this sector means the state's cattle industry is still a major contributor to the state's overall economy. According to information from UK's annual ag economic outlook, the state's cattle industry represents 13 percent of an estimated $8 billion in ag cash receipts for 2022.
In 2022, Kentucky produced approximately 727 million pounds of beef valued at $1.01 billion. Beef cattle sales accounted for approximately $1.10 billion in cash receipts to Kentucky producers in 2022 – the first time cash receipts have exceeded $1 billion since 2014 – and gross income of $1.11 billion. Cattle cash receipts ranks fifth among Kentucky commodities and account for 13 percent of total cash receipts.
The top five Kentucky counties for number of beef cattle in 2022 included:
-- Barren – 34,000
-- Pulaski – 29,500
-- Madison – 25,000
-- Breckinridge – 22,000
-- Warren – 21,500 (tie)
-- Bourbon – 21,500 (tie)
"Kentucky is home to more than 38,000 beef farm families who depend on consumers for our livelihood," said Andy Bishop, Kentucky Cattlemen's Association president. "As we celebrate Beef Month I encourage you to not only enjoy beef, but get to know a farmer who is working hard to feed your family and theirs."
The Kentucky Department of Agriculture has worked to recognize the importance of beef producers, and through the Department's Office of Agricultural Policy, 38 Kentucky meat processors have been awarded $9,520,471 from the Kentucky Agricultural Development Fund (KADF). Included was $4,753,825 from the Meat Processing Investment Program, $2,766,646 in Kentucky Agricultural Finance Corp. loans, and $2 million in Coronavirus Aid, Relief, and Economic Security Act. The KADF has also invested more than $20 million in the Kentucky Beef Network since its inception.
The Kentucky Department of Agriculture also helps producers find new markets for their cattle, conducts beef cattle shows, tracks market prices, and protects Kentucky's herds from disease. To find out more about the department's services, go to
kyagr.com