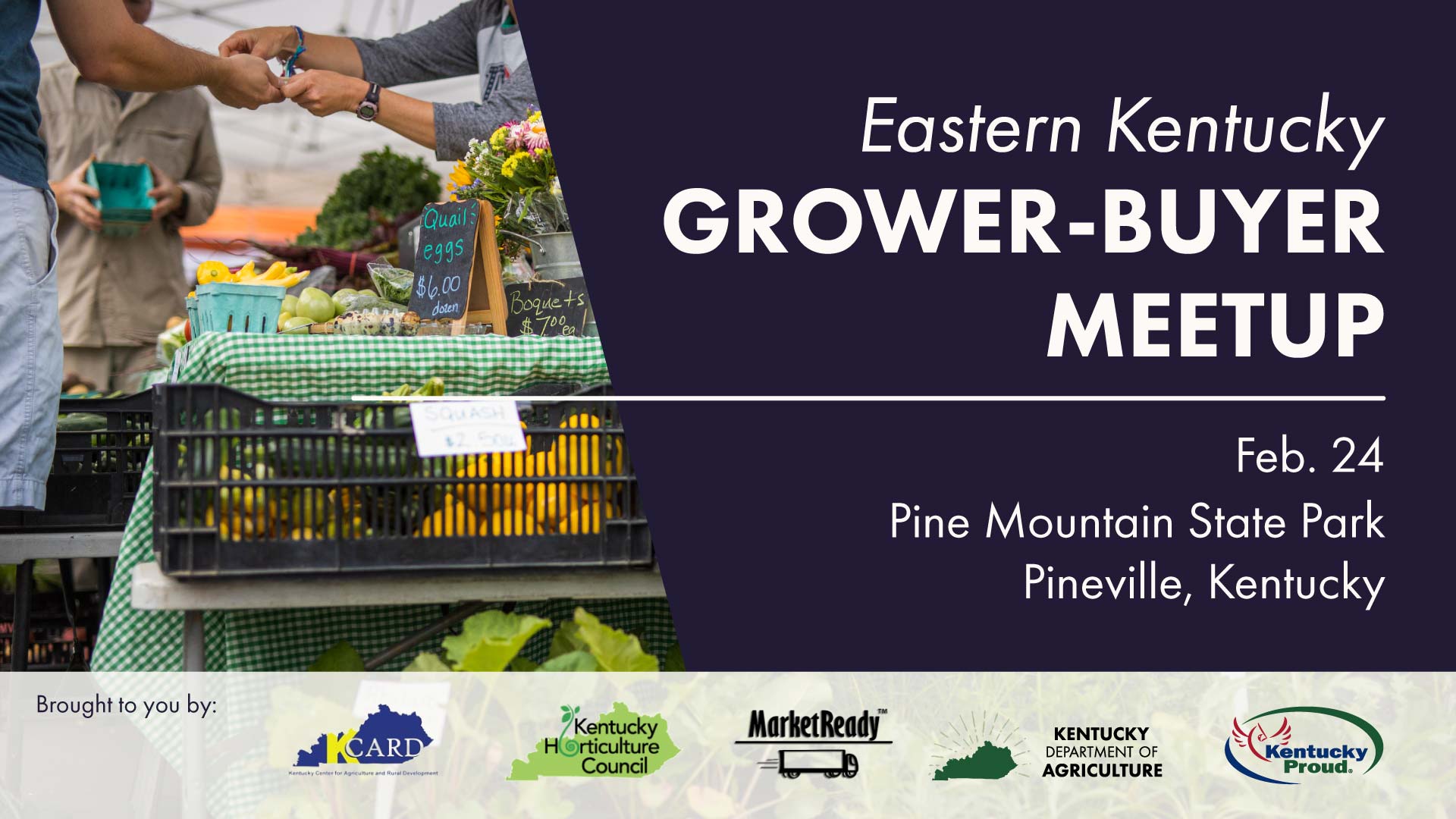 Fifth-annual Eastern Kentucky Ag Products Grower-Buyer MeetUp set for Feb. 24
Event brings growers, buyers together
FRANKFORT (Feb. 21, 2023) – The Kentucky Department of Agriculture will partner with the Kentucky Center for Agriculture and Rural Development, the University of Kentucky MarketReady Program and the Kentucky Horticulture Council to bring together Kentucky agriculture producers and buyers in Pineville, Kentucky, on Friday, Feb. 24 for a morning of networking and market channel education. The MeetUp kicks off the Eastern Kentucky Farmer Conference.
"This event is a great opportunity for Kentucky farm families to interact with one another and cultivate relationships with potential buyers," Commissioner of Agriculture Dr. Ryan Quarles said. "Developing these relationships strengthens our agricultural community and those who rely on them."
The fifth annual Grower-Buyer MeetUp is a free regional workshop focused on growers, buyers, and distributors that have operations in Eastern Kentucky. The MeetUp will include buyers of Kentucky produce ranging across restaurants, institutions, and distributors.
"Our MeetUp events offer a great opportunity for agriculture producers to meet several buyers in a single location and learn more about different market channels," said Cindy Finneseth, Kentucky Horticulture Council Executive Director.
Participants check-in will start at 9:30 a.m. EST, with buyer interviews starting promptly at 10 a.m. and concluding at noon at Pine Mountain State Park, 1050 State Park Road, Pineville, Ky.
Space is limited at the free event. To ensure they get a place, individuals are encouraged to register online at https://www.eventbrite.com/e/2023-eky-grower-buyer-meetup-tickets-523919566527.
Attendees are invited to stay at the park for the annual Eastern Kentucky Farmer Conference, which will follow from noon - 9 p.m. Friday and continues on Saturday, Feb. 25 from 8 a.m. - 5 p.m. Conference details are available at: 2023 Eastern Kentucky Farmer Conference – Community Farm Alliance (cfaky.org).