Kentucky Proud At-Cost Program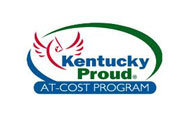 Due to statute establishing a special promotional fund (KRS 246.245), the Kentucky Department of Agriculture can purchase in volume promotional and marketing items. These items are then offered for sale to Kentucky Proud members at our cost so that producers and retailers may show that they are "Kentucky Proud."
Ordering: There are two ways to order items -- by mail or picked up in Frankfort (appointment required).
For mail orders, print out the Item Order form (located in the right column) and mail with payment by check or money order. Orders are processed weekly. Make checks or money orders payable to "Kentucky State Treasurer." All prices include postage.
Payments: We accept checks or money orders made payable to "Kentucky State Treasurer."
Payment is due at the time of purchase/ordering. We do not bill or invoice. We fulfill order upon payment.
We are unable to accept phone, fax, or Internet sales because we do not have the ability to process credit cards.
Additional Links