Jobs For Vets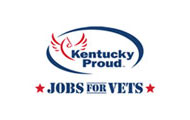 This program is a strategic partnership initiative between the Kentucky Department of Agriculture (KDA) and USA Cares, a Kentucky-based 501(c)(3) charitable organization providing financial and advocacy support to military members, veterans, and their families since 2003. KDA and USA Cares established this initiative to match veterans who have served in any of the branches of the United States Military (U.S. Air Force, Army, Marine Corps, Navy and Coast Guard), ranging from Vietnam to post-9/11 service, needing good jobs with Kentucky-based farmers and agribusinesses needing quality labor.
The initiative will be expanded to other veterans' services organizations to ensure that all military veterans and active members of the Kentucky National Guard have the opportunity to participate. Any Kentucky Proud farm or agriculture-related business is eligible to participate. Jobs in this program may be full time, part time or seasonal. As an incentive to participate, farms and/or agribusinesses will be able to display and promote the fact that they hire veterans through a distinctive, multi-use decal/signage created by the KDA. For more information visit the Jobs For Vets website in Additional Links below.
Goals for Kentucky Proud Jobs for Vets:
To match farmers needing quality labor with veterans needing immediate employment.
To provide veterans an open gate to a career in Kentucky agriculture. This initiative will provide veterans who are considering a career in agriculture with "On-the-Job" agriculture training so they will just not have a job, but an exciting and unique career skill set. At the same time, this initiative will provide Kentucky Proud members the unique opportunity to become "mentors" by teaching agriculture-specific skill sets to veterans. This, in turn, will spur a new generation of Kentucky farmers while at the same time aiding in the preservation of Kentucky's farm heritage.
To provide consumers the ability to support Kentucky Proud farms and agribusinesses that are actively hiring veterans.
Additional Links