Hemp Program Overview
The Kentucky Department of Agriculture (KDA) is conducting a Hemp Licensing Program as authorized by state and federal laws. No person can grow, handle, broker, or process hemp in Kentucky without a license issued by the KDA.
Hemp requires a KDA License to Grow, Handle, Process, or Market
Individuals and businesses who would like to be considered for a license to grow, handle, process, or market hemp must submit the appropriate license application to the KDA Hemp Program.  For more information on applications, please visit the Applications for the Hemp Program page.
License Holder Lists
KDA has made available two lists of this year's initial license holders for reference only; the lists have been organized differently for your convenience. One list is sorted by county name and the other is a statewide list in alphabetical order. Both lists include growers, processors/handlers, and universities. These lists are located on this page in the right sidebar under the heading "Forms & Documents" (mobile devices scroll down). These lists do not reflect changes made throughout the year by Site Modifications or new Processor/Handler applications.
Please note, that licensees will appear on the list multiple times if they operate in multiple counties. That duplication is not an indication of multiple licenses of the same type. Of course, they will also appear on the list multiple times if they hold multiple license types: Grower and Processor/Handler.
Kentucky licensed processors, handlers, and brokers are given the option to make their contact information available on our Processor/Handler List. Some License Holders have also voluntarily provided their contact information for the purpose of selling hemp seeds and transplants to other license holders on the KDA Seed and Transplant Providers List.  Current lists are located on this page in the right sidebar under the heading "Forms & Documents" (mobile devices scroll down).
Goals and Growth of the Hemp Program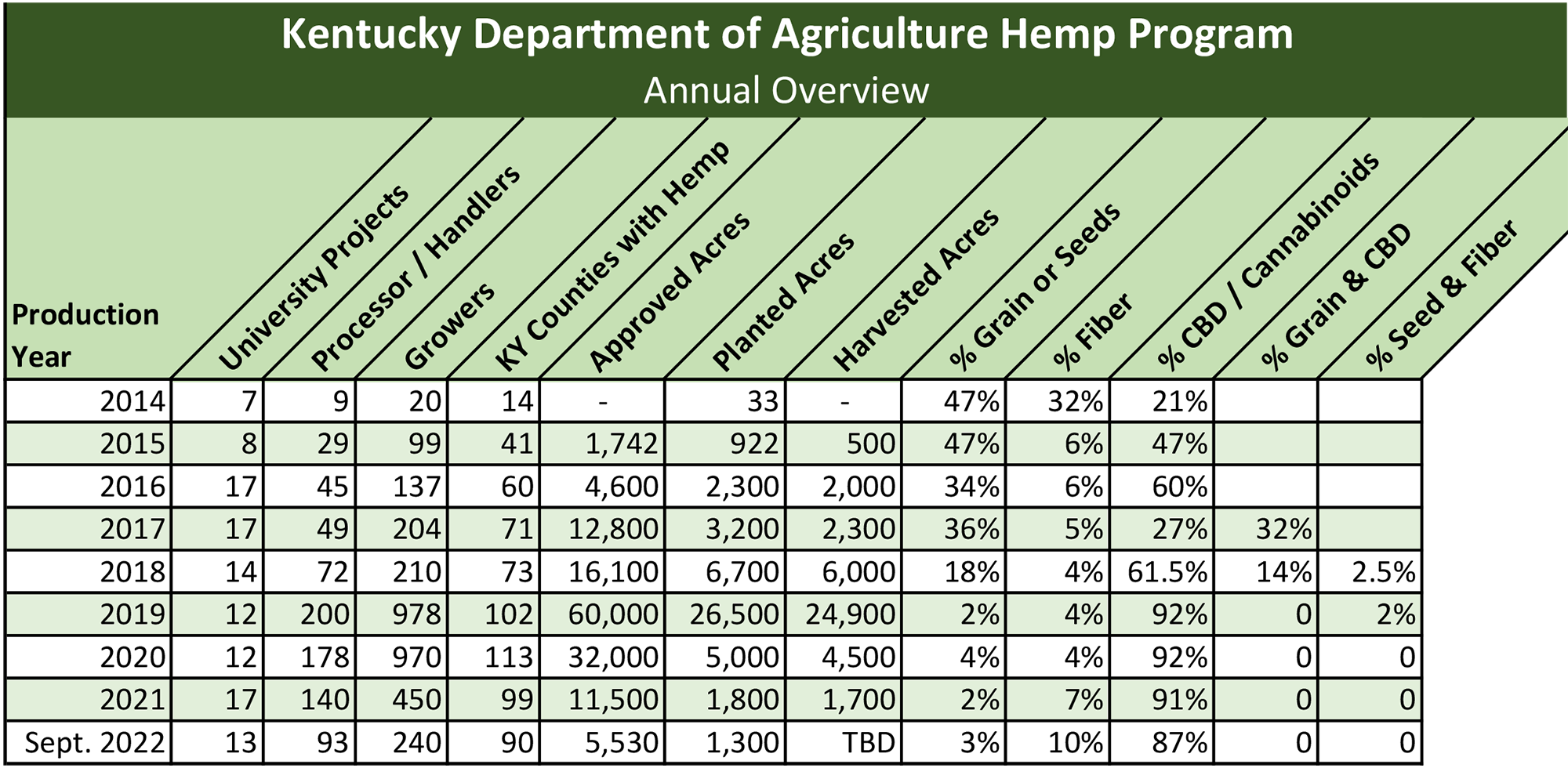 "My strategic objective," states Commissioner Ryan Quarles "is to position the Commonwealth's growers and processors to ultimately prevail as national leaders in industrial hemp production."
There is intense interest and enthusiasm across the Commonwealth for this historic crop. The Department seeks to build a body of knowledge on hemp agronomics that will lay a solid foundation for a new industry.
Kentucky farmers seeking an agricultural crop for inclusion in crop rotation plans or as a replacement crop may find that hemp is a viable option. Before you do anything, KDA asks growers to assess their financial risk before entering the industry. The hemp marketplace is still in its infancy. The supply chain is still developing, hemp varieties are unpredictable and many regulatory issues remain unresolved at the federal level. Market options for fiber and grain are limited and prices for floral material have drastically declined. 
If you have visited all of KDA's hemp pages and still have questions about the program, please send inquiries to Hemp@ky.gov.
Additional Links