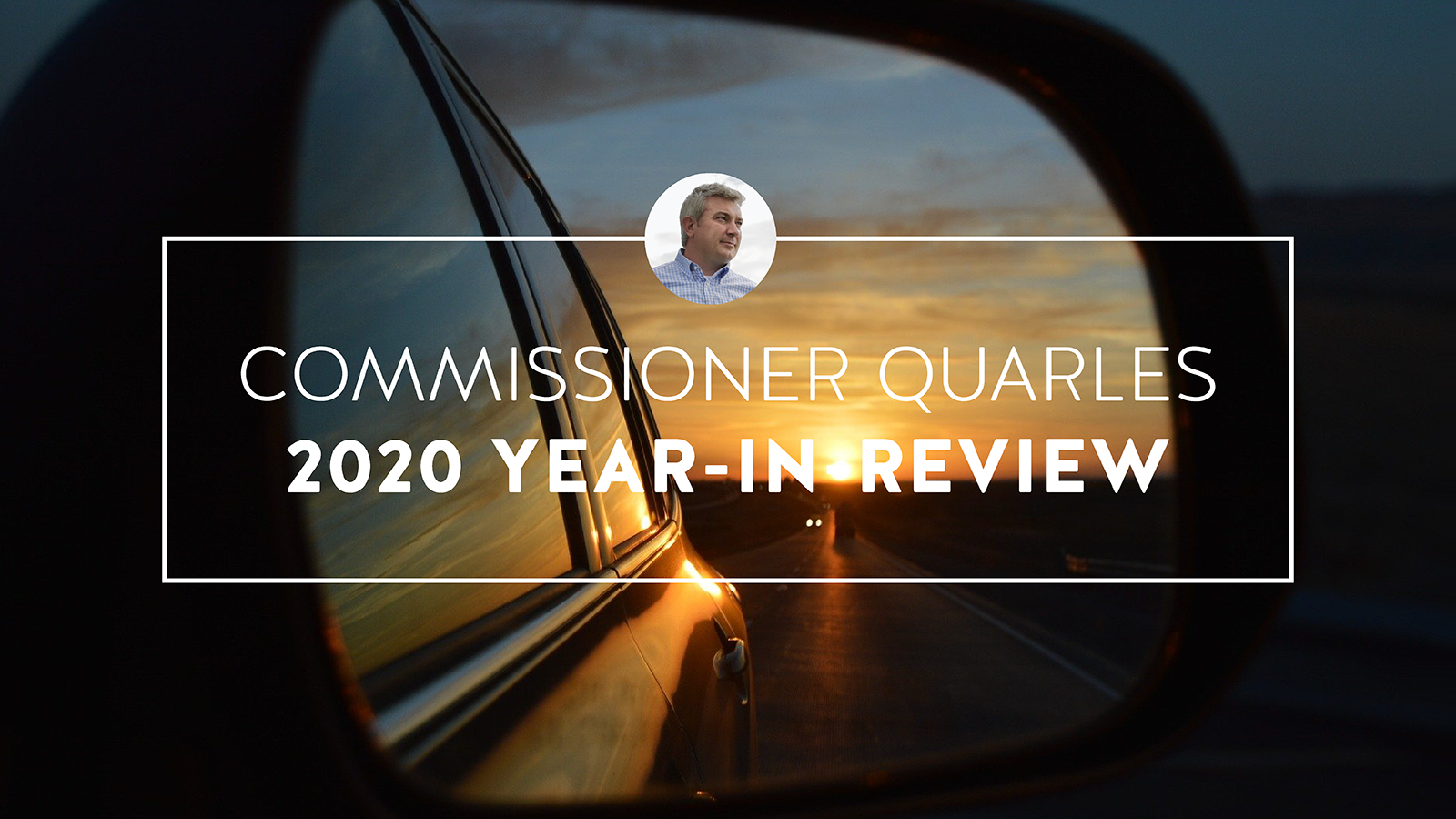 Commissioner Quarles reflects on fifth year in office
Despite an unpredictable year, Quarles says KDA made strides for Kentucky's agricultural community
FRANKFORT (Dec. 29, 2020) – As the year draws to a close, Agriculture Commissioner Dr. Ryan Quarles reflected on his fifth year in office and the accomplishments of the Kentucky Department of Agriculture (KDA) and the Kentucky agricultural community.
"No one could have predicted the turbulent and wild year the United States has seen in 2020," Commissioner Quarles said. "During this year, the Kentucky Department of Agriculture was able to make progress on key priorities for the agriculture community, while also coming together to fight the coronavirus pandemic. We made huge strides in providing support to Kentucky farm families, advocated for our farmers at the federal level, worked to keep our food supply strong, and mobilized quickly to reduce hunger. None of this would be possible without the incredible team of public servants at the Kentucky Department of Agriculture. As we head into 2021, the KDA team is ready to continue fighting to put Kentuckians first."
Agriculture Community Support
In a year marked by the pandemic, the KDA worked hard to not only keep Kentucky farm families and regulated industries current with the latest news related to the virus, but also continued to rack up successes for the agriculture community.
Producer guidance. Commissioner Quarles and KDA staff developed COVID-19 guidance for agricultural producers in consultation with Kentucky Farm Bureau and also encouraged Kentucky farmers to apply for the Coronavirus Food Assistance Program.
Business guidance. The Office of Agricultural Marketing developed recommendations for farmers' markets and agritourism venues, while the Office of Consumer and Environmental Protection worked with regulated industries to ensure essential businesses, such as gas stations and farm supply stores, remained open for business while also conducting important inspections.
Safe shows and fairs season. The Division of Shows and Fairs developed public health guidelines for a successful season of 41 livestock shows, even though many county fairs were canceled.
Virtual Kentucky Proud CSA fair. KDA and the Kentucky Proud brand partnered with Edible Kentucky, Southern Indiana, Bluegrass Farm To Table, the Organic Association of Kentucky, and the Kentucky Horticulture Council to host the first-of-its-kind "Kentucky Virtual Community Supported Agriculture (CSA) Fair," in lieu of in-person sign-up fairs that were canceled due to the pandemic.
Released Ag-Tech proposal. After two years of work with the University of Kentucky, Alltech, and the city of Lexington, Quarles announced a roadmap for making Kentucky the ag-tech hub of the United States.
Kentucky State Fair and North American Livestock Expo. Commissioner Quarles and KDA staff worked with the Kentucky State Fair Board to host the 2020 Kentucky State Fair and the North American International Livestock Expo in line with public health guidelines and named winners of youth livestock shows.
Revitalized the Appalachia Proud brand. Continuing its support of Appalachia, Kentucky Proud refreshed the unique Appalachia Proud brand to pay better tribute to the true landscape and spirit of the region. Last year, KDA also aligned counties eligible for membership to the definition of Appalachia recognized by SOAR and the Appalachia Regional Commission.
New faces at the Office of State Vet. Commissioner Quarles thanked Dr. Robert Stout for his years of service to the Kentucky agriculture community and welcomed Dr. Katie Flynn as the new State Veterinarian and Dr. Alex Hagan as Deputy State Veterinarian.
Mental health awareness. Continued to work with State Representative Brandon Reed to raise awareness about the tough topic of farmer mental health and suicide on the farm, including designating September 23 as "Farmer Suicide Prevention Day in Kentucky."
Foreign seeds. Raised alarm bells about unsolicited packages of foreign seeds shipped to Kentuckians as part of what appeared to be a marketing scam.
Biosecurity preparedness. KDA secured a $236,000 biosecurity grant from the federal government to expand emergency preparedness in livestock and poultry industries.
Raised $611,000 for the Ag Tag program. Worked alongside Kentucky 4-H and Kentucky FFA to raise $611,743.08 for the Ag Tag Program. The donations are divided equally among Kentucky 4-H, Kentucky FFA, and KDA for youth development and promotional programs. Half of the 4-H and FFA funds go back to the county where the tag was purchased, where both organizations use the funds to support local programming, awards, and scholarships.

National Advocacy

Commissioner Quarles and the KDA continued to work with the Trump Administration to support Kentuckians and to shape federal policy outcomes.

COVID-relief. Advocated for Kentucky farmers' concerns to the U.S. Department of Agriculture as it developed the Coronavirus Food Assistance Program (CFAP) authorized by the CARES Act.
Elected president of national organization. Quarles completed his term as Vice President of the National Association of State Departments of Agriculture (NASDA), and in September his peers elected him President, making him the first Kentuckian to serve in that role since former Commissioner Billy Ray Smith in 2001.
Joined White House task force. Commissioner Quarles joined the Initiative on Regulatory Innovation, which is chaired by Vice President Mike Pence and aims to cut regulations and costs, advance occupational licensing reform, and better align local, state, and federal regulations.
Repeal and replace of WOTUS. Quarles and the KDA worked with the Trump Administration to repeal and replace the onerous Obama-era Waters of the United States (WOTUS) rule. KDA also signed a Memorandum of Understanding (MOU) with the EPA to establish collaborative efforts and foster relationships between agencies.
Worked with producers on crop technology issues. In the face of an uncertain regulatory environment, Commissioner Quarles and the KDA worked closely with the Kentucky Soybean Association and Kentucky Farm Bureau to advocate for clear rules regarding the use of dicamba-based products. KDA continued to provide guidance throughout the season.
Hemp. In the face of depressed prices and bankruptcies, Commissioner Quarles continued to raise his concerns about the effects of regulatory uncertainty, or "bureaucratic paralysis" on Kentucky's hemp industry with members of Congress and the Food and Drug Administration.
Supported veterans in agriculture. KDA partnered with the Kentucky Center for Agriculture and Rural Development (KCARD) and other agriculture organizations to secure a $746,000 grant to establish and enhance farming opportunities for military veterans.

Food Supply & Worker Safety

As the coronavirus raged across the nation, immense pressure built up on the nation's food supply. Commissioner Quarles and the KDA worked to make sure that America's food supply, especially the meatpacking sector, remained strong and that workers were protected.

Supported and expanded Kentucky's meat processors. As Vice Chair of the Kentucky Agricultural Development Board, Commissioner Quarles worked with his fellow board members to create the Meat Processing Incentive Program (MPIP), which invested $1.5 million in Kentucky's small meat processors looking to expand.
Secured $2 million in CARES Act funds from the Governor. Successfully advocated and secured an additional $2 million from the federal CARES Act to further supplement the MPIP and expand meat processing.
Advocated for meat processing worker protections. Commissioner Quarles and United Food and Commercial Workers Local 227 urged Governor Beshear to allow expanded testing access for Kentucky's meat-processing workers, a place in line for personal protective equipment, and a request for expanded childcare benefits.

Kentucky Hunger Initiative

When the year began, the world was not prepared for the coronavirus and its effects on the economy, which included a rise in food insecurity. Through the Kentucky Hunger Initiative, the KDA and Kentucky farmers mobilized quickly to feed those affected by the economic shutdown and the state's disastrous unemployment situation.

Drive-Through food banks. The Kentucky Department of Agriculture streamlined food assistance programs to allow for "drive through models," and successfully worked with the Kentucky Department of Education to request flexibility from the U.S. Department of Agriculture in administering school lunch programs.
Historic donations. Kentucky Farm Bureau Mutual Insurance Company donated $500,000 to Feeding Kentucky, Glean Kentucky, and Kentucky Hunters for the Hungry. In addition to providing support to each organization, the donation resulted in the purchase of Kentucky farm products for the state's hungry.
Mobile Meals expansion. Farm Credit Mid-America and CoBank funded a significant expansion of mobile meal distribution sites in Butler, Boyd, Clinton, Fayette, Jefferson, Jessamine, Marshall, McCracken, and Letcher counties.
Serving and advocating for schoolchildren. Commissioner Quarles visited Owensboro Public School's mobile feeding site and many others around the state to help school volunteers and nutrition workers distribute meals to those in need. He also worked with JCPS Superintendent Dr. Marty Pollio to advocate for Kentucky schoolchildren.
Securing federal resources. The KDA's Office of Consumer and Environmental Protection identified and secured a $25,000 federal grant to purchase 56 cold storage units for Kentucky food pantries to preserve farm products.

Fighting for Kentucky

Commissioner Quarles also fought for Kentuckians in the face of a haphazard COVID-19 regulatory response adopted by state government and defended farm families from attacks from Hollywood actors to suspected anti-competitive market practices.

Defended rights of Kentuckians. Sued in state court alongside Evans Orchard and Cider Mill, after a public health official told the agritourism business they could not allow more than 10 individuals into its 96,000 square foot attraction at a time. Obtained a restraining order from the court that provided relief to agritourism businesses across Kentucky for a period.
Advocated for inclusive policy-making. Commissioner Quarles and the Kentucky Department of Agriculture fought for policymakers to include Kentucky restaurants, small business owners, and others in developing a COVID-19 response, instead of the Governor's haphazard COVID-19 regulatory response.
Urged Attorney General Bill Barr to investigate suspected price fixing. Commissioner Quarles and Attorney General Daniel Cameron sent a joint letter to U.S. Attorney General William Barr asking for the Department of Justice to investigate possible anticompetitive practices in the beef-packing sector. The DOJ later announced an investigation.
Stood up for farm families. Wrote an opinion editorial defending the American agriculture industry when it was attacked.